A friend who is a professional salesperson once described to me the process of convincing someone to fork over their credit card. Despite feeling like I needed to perform a cleansing ritual afterward, one detail in particular stuck with me.
He said that after you've qualified the customer (that is, determined they're a buyer and not a window-shopper), located the right merchandise for him, and talked him into some additional purchases, the final step is to "ask him to leave his wallet on the counter on the way out the door."
He said a lot of salespeople fail because they don't know how to ask for the credit card. They're not closers.
I think of this every time I visit a site that lacks a clear entry point. "OK", I think. "You've got me here. Now what do you want me to do?"
With the
value proposition
and
investment breakdown
in place, the next step is to create a nice, clear call-to-action statement.
A call-to-action is simply a statement that tells the user what to do next, phrased as a command. When you're trying to convince a visitor to become a member, the call-to-action can be, and often is, created in three words.
"Sign up now!"
Get 'em moving
However, a fantastic way to get visitors excited about your application and build momentum is to get them moving forward
without
asking for up-front registration.
In other words, instead of "Sign up now!" consider the call-to-action, "Create your first invoice now!" or "Write your first post now!" or something else.
The idea, simply put, is to drop visitors straight into the deep end. Enable them to do something cool as quickly as possible. Let them splash around for a bit before committing. This gives visitors some freedom to experiment with your application, easing the pain of possibly having to plop their email address into yet another registration form.
TripIt does this well.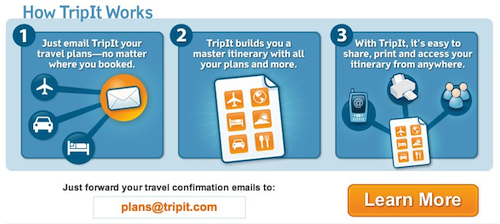 To get started with this trip-itinerary-sharing application, all you do is e-mail your itinerary from any major travel service (airline, hotel, and so on) to plans@tripit.com, and you get back a sample of how your shared itinerary will look. You can do this as many times as you want, in fact—the only reason to sign up is to share your itinerary with other people.
(Note also that TripIt offers a 3-panel investment breakdown, a Learn More button, and a clear statement about how to get started. They're doing everything right.)
If it's not necessary to ask visitors to register before they get started with your application, then don't! Get them moving forward, then ask for their registration information once you actually need it.
Just two more things to discuss about signup frameworks. What are they? Find out in Parts 4 and 5!
This is Part 3 of a five-day blog series focused on tips based on Robert Hoekman Jr.'s book,
Designing the Moment.
In this series, Robert discusses ways to get new users over the crucial hurdle of signing up. Click here to see Part 1, Part 2, Part 4, and Part 5.