Publishers of technology books, eBooks, and videos for creative people
Home > Blogs > Twelve tips for an iLife Christmas (thanks to Jim Heid)
Twelve tips for an iLife Christmas (thanks to Jim Heid)
On Saturday Peachpit author Jim Heid did a special event at the Apple Store San Francisco. Jim did a cool demo focused on using the iLife suite to create meaningful Christmas presents. I learned all kinds of things! Here's a list: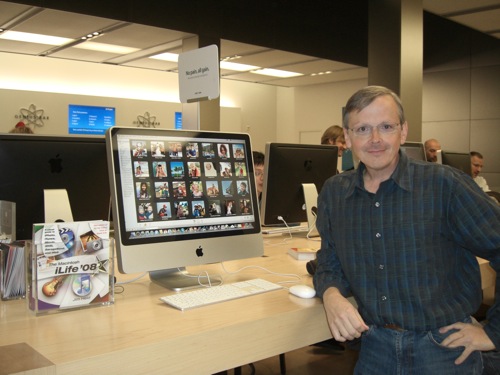 Jim is the son of Santa. His father was an actor who acted as Santa each Christmas for numerous charities. Why is that important? Well, because who would be better qualified to talk about Christmas gifts than the son of Santa himself!
I had no idea you could create iTunes allowances for friends and each month they'd receive however much you designate into their iTunes account. What a great way to give a gift that keeps on giving! And the best part is if the recipient later proves unworthy, you can just cancel it.
Quick Tip: put a hyphen in front of playlists or album names you want to hear all the time. That way they will show up at the top of your iTunes list and you won't have to keep scrolling. Saves a little wear and tear on your tired fingers.
Holiday greeting cards and calendars are now gorgeous with the new 7.1.5 iPhoto update, which improves print quality. Get it.
When creating greeting cards, It's always tempting to play with all the fun preset themes in iPhoto, but consider the standard "picture card" template, which will really maximize the impact of your photo.
Watch out for the "yellow triangle of doom" while working with photos. You won't get beautiful, sharp prints when it's present.
Quick Tip: Bumping up the sharpness ever so slightly will help the print quality since printing automatically softens the image.
You know that little "made on a Mac" saying along with the Apple logo that appears on the back of your iPhoto projects? Guess what? You can delete it. Just go to the settings tab and then uncheck the box that says "include Apple logo on back of card."
I didn't know you could put individual little pics on specific days of the month when creating a calendar—pretty cool! Simply drag and drop. Use this feature to put a picture of your loved one on February 14th, or place a picture of your friend on her birthday date.
You can also select national holidays from several countries to autofill your calendar. My only complaint there is that I'm half Greek, and Greece is not in the drop-down menu. What's up with that?
You don't have to change fonts globally when creating a calendar. You can change the font of "Dad's Birthday" to, say, Giddyup Std if you want simply by highlighting that text, going to the edit menu, show fonts, and you're there.
iMovie isn't just for video. What a great way to create a slideshow with stills and then send it to iDVD, burn a DVD, and ship it off as a Christmas gift!
If you have other inspiring tips or just want to share things you've creating in iLife for the holidays, please share them here. And,
Jim,
thanks for the great demo!
Other Things You Might Like

Final Cut Pro X 10.4 - Apple Pro Training Series: Professional Post-Production

macOS Support Essentials 10.13 - Apple Pro Training Series: Supporting and Troubleshooting macOS High Sierra