When Apple first announced AirPrint in the summer of 2010, I was really excited and purchased a Canon wireless printer to be ready for the grand day when I could print from my iPad and iPhone directly. In the meantime, I could print wirelessly from my various Macs and my wife's PC.
The release of AirPrint immediately crushed my vision—it only worked with a small subset of Hewlett-Packard printers, and none of the ones I checked produced the quality prints to which I was accustomed with my Canon and Epson printers. Now, six months later, the AirPrint printer category remains virtually unchanged and I was ready to consign AirPrint to my category of "good ideas that didn't live up to their promise." But that has changed, at least for Mac users, with the discovery of a great little, practically unknown, utility called AirPrint Activator, now in a 2.0 beta release.
If your have shared or network printers on your network, you can print to them from your iPad so long as you have run AirPrint Activator on an Intel Mac running 10.5 or later that can see the printer(s) in question. Just choose Print on your iPad from any app that supports printing, such as Photos, Safari, Pages, or Numbers, then select the printer you want to use, just as if it were one of the annointed AirPrint printers from Hewlett-Packard. The adjoining figure shows that you can also print to a modem (FAX, anyone?). Part of the reason that AirPrint Activator is at version 2 is that the first version apparently leveraged and employed a hidden feature in iTunes and Apple's lawyers issued a cease-and-desist. Rather than give up on such a highly demanded piece of functionality, the author rewrote the utility to not include any Apple code, so it should keep working in future OS releases.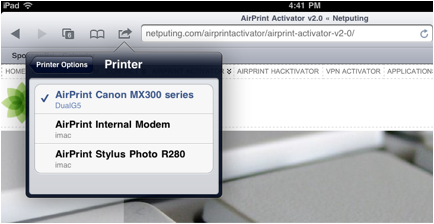 By the way, it can even be a Windows shared printer, so long as the Mac on which you run AirPrint Activator can see and print to the printer.
Dennis Cohen is the co-author of The iPad 2 Project Book.