Stock photographers use keywords to categorize their work so people looking for stock photographs can quickly find suitable images.

Example stock-photography categories include People, Lifestyle, Food and Beverage, Business, Industry, Abstracts, Backgrounds, Concepts, Travel, Transportation, Medical, Science, Technology, Fine Art, Nature, Wildlife, Agriculture, Sports and Entertainment. Subcategories would use keywords to describe specific image content.
We can take a cue from these professionals when looking to define a system and approach to finding our images with our workflow. Lightroom offers many tools to search for images, but it also is a great tool to start the process of keywording.
Lightroom allows you to start this process right at the import stage. Start by pressing the Import button at the lower left hand side of the library module. The Lightroom Import Dialog box will appear.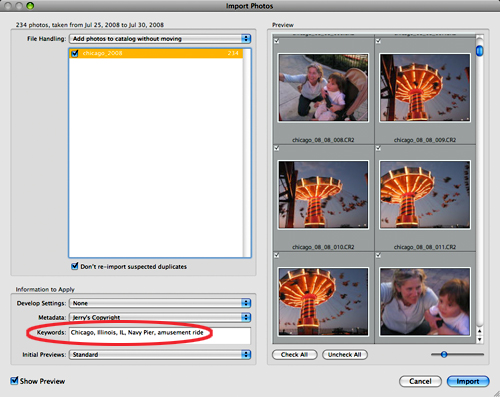 Navigate to the images you wish to import, and then look to the bottom panel named Information to Apply (above). In this example from a recent Lightroom teaching workshop in Chicago, I start entering the keywords that relate globally to the images being downloaded. Chicago, Illinois, IL, Navy Pier, amusement ride.

Note: These words and word blocks (two or more words) are separated by comas. These are what are call delimiters within a database searches.

After I add these global keywords to my images on the initial import, I can look at specific images within the Lightroom Library module and add additional keywords specific to a particular image, to further define the image content.

The best practice here with Lightroom's ability to add keywords is to develop the habit of taking just a few minutes at the initial import stage to add keywords while the shoot and photographic experience is fresh in your mind. This will help tremendously down the road as your catalog become larger and you want to use specific words to search for your images.
Be sure to look back over my posts this week for more Lightroom tips.
And for more on Lightroom, check out my book Lessons in DSLR Workflow with Lightroom and Photoshop.