It's hard to believe SXSWi 08 is drawing to a close. As I write this, the last panels are in session, they've dismantled the New Riders booth to ship it back to California, and all that's left are the closing night parties. It was a momentous conference, with almost 8,000 attendees. Everybody's talking about the big dustup with Mark Zuckerberg (which I missed).

Dr. Nita Rollins, coauthor of our fabulous new book, The Open Brand: When Push Comes to Pull in a Web Made World, captivated her audience with her presentation at the Adobe Day Stage this morning. With killer graphics and an R.E.M. soundtrack she illustrated the necessity—and the steps—for brands to become Open, Personal, Engaging, and Networked. Her message resonated with this Webby crowd. Nita will also be presenting at our own Voices That Matter Web Design conference in Nashville.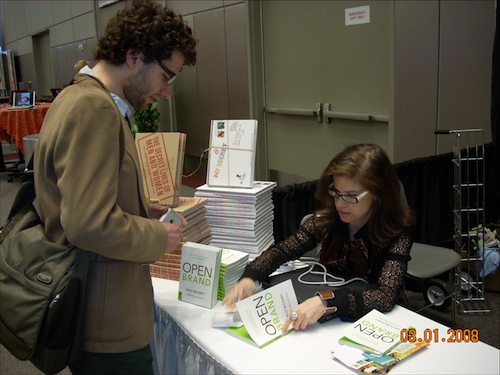 I'm doing my best to process all the gossip I came across here: Who's left what company, who's buying what Web property, what's Company X's secret strategy that will put them back on top. It makes an interesting subtext beneath all the bright lights, fancy demos, and lavish parties in this interactive world.