Amazon opened the (beta) doors on its Amazon MP3 digital-music site today—and it is very usable.
The store
sells unprotected MP3 songs, so they will play on your iPod, Zune, and any other MP3 player you own. And the sound quality is fine: Amazon says every song is encoded at 256 kilobytes per song, but one song I got says it is 280 kilobytes per second. (Apple's iTunes Store offers 128 or 160 kilobit-per-second rates in its AAC format.)
Amazon claims to have more than 2 million songs, with half the singles going for 89 cents and most albums from $5.99 to $9.99. Song previews are 30 seconds.
Buying music is pretty easy. Once I downloaded the Amazon MP3 Downloader application, I clicked the Get MP3 button, and the song started downloading.
On Mac OS X 10.4, the downloader application put the Amazon-bought MP3 files in a folder named Amazon MP3 in the Music folder. And when I opened up iTunes, the songs were there, with album art, ready to be played.
Like everyone else, apparently, who has purchased music today from the store, I picked up "1234" by Feist.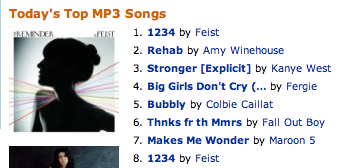 The store seems a little bare-bones right now, lacking reviews and recommendations, but that's what you would expect on a first day.