If you want to become a better photographer, try this exercise when you are shooting: Focus on creating a unified set of images. Let me explain.

Last month I was traveling with my wife and our daughters in Massachusetts and we decided to go to the town of Rockport. The intent of the visit wasn't photographic, yet of course, I had a camera on my shoulder. Below are a few images from our stroll through the town.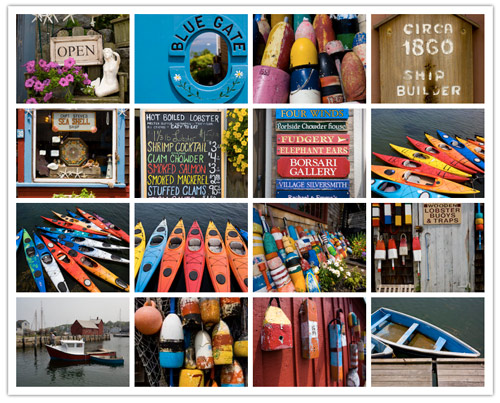 As I walked through the town, I was inspired as there was so much to see! In situations like these, I typically give myself an assignment to focus or clarify what I photograph. In this situation, I choose "New England + color." In addition, I was thinking about how I could try to create a solid and cohesive set of photographs.

As you've probably noticed, amateur photographs will have a random collection of good single images. Yet, the top professionals will have portfolios of clear, cohesive, and compelling images. The difference between the two is paramount.

Therefore, the next time you go out to take pictures, select a "focus" before you begin shooting. In this way, you will notice things that may have otherwise gone unnoticed. Even more, I've found that by giving myself an "assignment" it trains me to find photographs and ultimately deepens my appreciation of visual discoveries I make along the way.
If you need a few ideas for assignment topics, why not try one of these: numbers, words, colors, happiness, loneliness, excitement, eye contact, touch, sadness, shapes and lines, juxtaposition, or irony, for example.
Best of luck and happy shooting!

Chris Orwig