Apple this morning took the wraps off revamped iPods; a new, much-anticipated touchscreen iPod; and a Wi-Fi version of its iTunes Store.
The new touchscreen device, called the iPod touch, will offer the same look and 3.5-inch screen as the iPhone. And like the iPhone, the iPod touch will have Wi-Fi built in and include the Safari Web browser for going out on the Internet. It is the widescreen iPhone without the phone.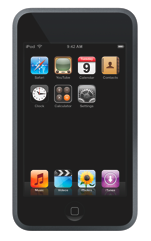 The 8-gigabyte version will go for $299 and the 16-gigabyte model will cost $399 when they ship later this month.
Apple also retailored the original full-sized iPod. Rechristened the iPod classic, the new model sports a similar look to it predecessor but is a bit thinner and sports a metal enclosure.
Available now, the 80-gigabyte classic goes for $249 and a 160-gigabyte version is $349.
The new iPod nano will take on a new look, becoming more squarish than the original nano. ("It looks like a little TV," officemate Victor Gavenda remarked.)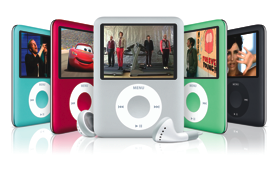 Offering a two-inch screen for viewing video, the new nano will be available in five colors. A 4-gigabyte nano will come in silver and sell for $149. The 8-gigabyte will go for $199 and come in five colors. The updated nano will be available in stores this weekend.
Not to be left out, the
iPod shuffle,
which also comes in five colors, now includes a model for
(Product) Red.
On the software side, Apple announced the iTunes Wi-Fi Music Store, which will let iPod touch and iPhone users browse the iTunes Store and purchase music over a wireless connection straight onto their Apple mobile device. (When they connect their iPod touch or iPhone back up to their computer, music purchased on the device will sync up with their iTunes library back on their computer.) Apple will also sell iPhone ringtones through the iTunes Store.
A new version of iTunes, 7.4, will be available later today; the iTunes Wi-Fi Music Store will go online later this month, Apple said.
And finally, Apple cut the price of the 8-gigabyte iPhone from $599 to $399. The 4-gigabyte model is marked down to $299 from $499 and will be available while supply lasts, Apple said.