Question: Joe, on page 1 of Chapter 1 in "The Moment It Clicks" is an image of a ballerina on a very steep roof, being photgraphed by someone. Is that you? What is the deal on this shot? Where and how was it done, and how was the ballerina protected from falling off? Thanks.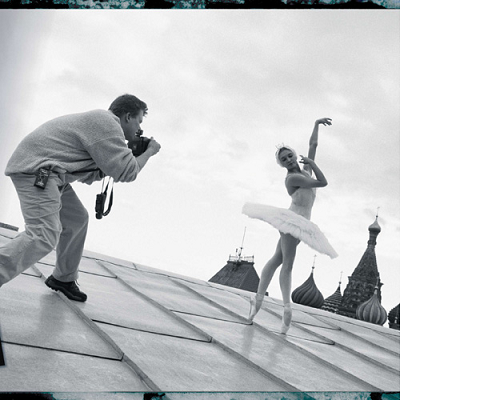 Answer: That shooter in the pic is me, and the dancer is Nadia Grachova, of the Bolshoi ballet at the time. It is the roof of the GUM department store on the edge of Red Square. Very difficult picture to gain permission to shoot. I was taken down from the roof the first time by Russian security, even though I thought we had secured official papers and permits. Took another week of wrangling, but got back up there. The roof is not that badly tilted, it just appears that way in this photograph, which was shot by Christopher Morris, a long time colleague, who was a contract photographer for TIME, and did a great deal of very noteworthy war photography in his career.
Ask me a question so I can answer it in a future post on this blog.

Best, Joe