Robin and I are in London for a couple of months while she teaches a module in the Shakespeare studies curriculum at a West London University, Brunel. Yes, Shakespeare, not design or typography. I know, she freaks me out too.
Getting away from home and the usual projects has encouraged me to draw more than I usually have time for. Or if I have time, I usually spend it on the iMac using Adobe Photoshop and Illustrator, Corel Painter, etc. Well, I didn't put any of those apps on my laptop, so I'm getting by with iPhone photography, mechanical pencil, and felt-tip pens.

It's satisfying to get analog again, partly because sketching makes you let go of the determination to make it look good. Too many slips of the pen and models moving to worry about accuracy. In fact, I've realized that you don't have to be an artist to draw. These days, the worse my drawings are, the more I like them. When I attended a life-drawing session at the Tate Modern museum, I struggled mightily to create good looking sketches of the very quick poses. I usually ended up with one or two accurate looking chalk strokes by the time the pose was finished. Some others in the session were a sketching blur, creating horribly inaccurate sketches that had character and visual interest. I've seen lots of people who couldn't draw that well (by traditional standards) but whose drawings had an appeal because of the inaccuracies.

So my goal is pretty much to do bad drawings and enjoy myself.

I signed up for a drawing session on February 11 at the Battersea Arts Centre in London. It's sponsored by an organization called Drawing London. There will be up to 30 models posing from 11:00 until 5:00, continuously morphing and changing throughout the session. My drawing hand is tired already.

Just before I started to create a graphic for the event that I would post on a personal blog, I stumbled across an Internet site of East Indian movie posters. The loose, hand drawn quality of the posters fit in with my current "forget accuracy" mode, so I based the graphic (very loosely) on the Indian poster styles, comforted by the concept that it has to be not-so-great.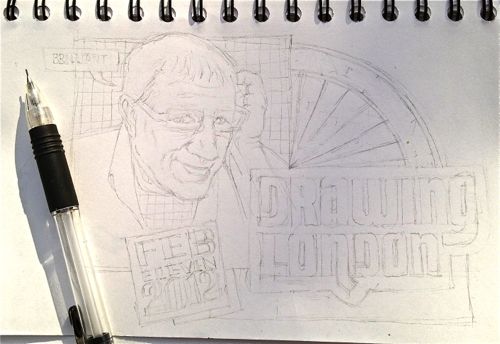 A pencil rough.
Here is the felt tip pen inked version. Not a good likeness of me, but that's one of the things I like about it. Horrible hand lettering, but it should have been worse. Darn! Gotta try harder.

A nice thing about keeping a sketch book and drawing all the time, or even just doodling, is that later you can go back and sometimes get ideas for a current project, or at the very least, conjure up some fun memories.

Below are some sketches done since arriving in London. No sketches of landmarks yet, but I plan to have some soon.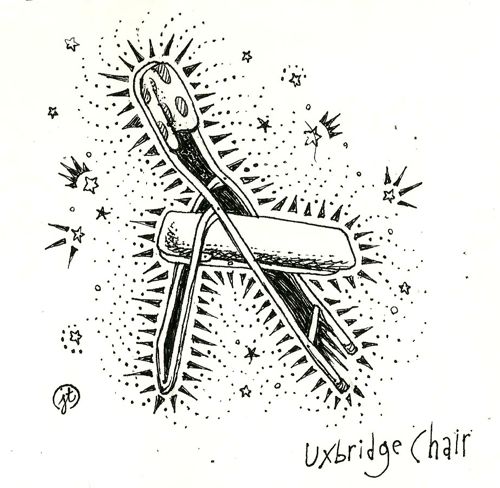 Our apartment is in Uxbridge, in West London, at the end of the Metropolitan line on the tube system. If none of the models in the apartment is sitting still, I find some mundane object to draw.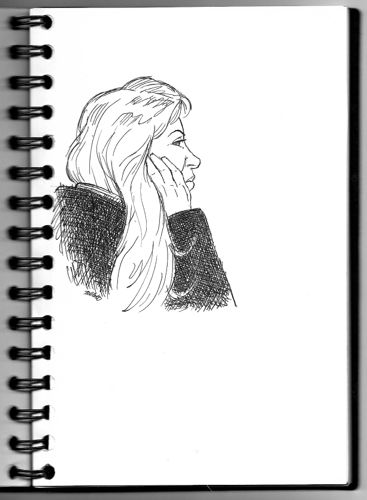 We make many trips to the Brunel University campus. While Robin is in the library, I go to the student coffee shop and sketch students.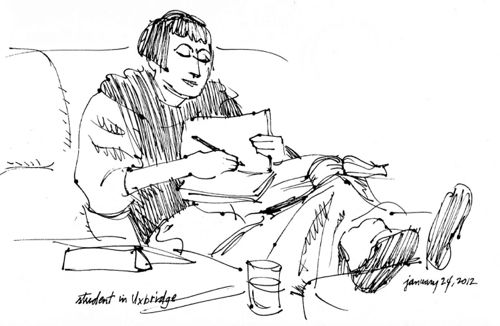 Robin doing Shakespeare research at the apartment.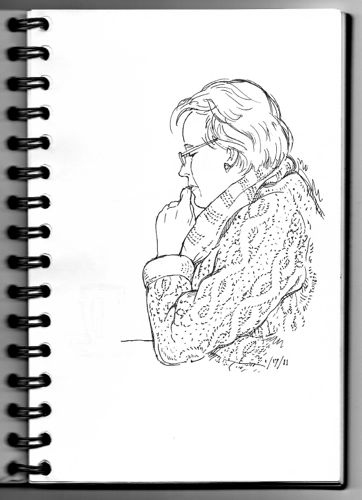 One of Robin's students during class. She was a good model, didn't move much. Maybe she was asleep.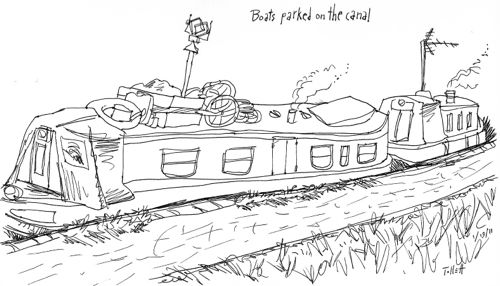 A canal runs near the Brunel campus, with lots of canal barges. This drawing is so bad that I'm really liking it.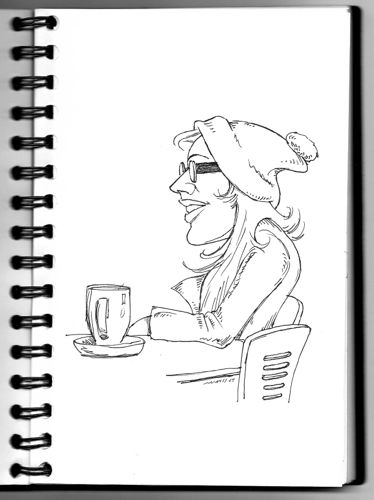 No, it's not a ski resort, just another student at the student coffee shop. OK, I admit it, I sometimes get sketching and cartooning confused.

For the next several days we'll be in Paris , checking out the art and design scene there. We'll have some fun images and updates in our next blog.