Lots of folks have questions about the process of upgrading their catalogs from Lightroom 1 and Lightroom 2 beta.

The process is pretty painless and it doesn't change your original version 1 or version 2 beta catalogs. Although Lightroom 2 is designed to not alter your original catalogs, best practices dictate to always back up your files before performing an upgrade.

When you first launch Lightroom 2, it will look in the default catalog location to see if an existing catalog is present and launch the Create New Lightroom Catalog dialog box.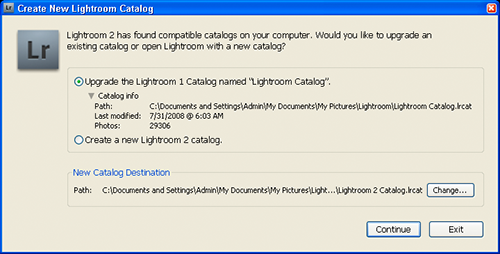 If an existing catalog is found you will have the option to upgrade it or create a completely new catalog. If you choose upgrade, then Lightroom 2 first creates a copy of the old catalog and uses that copy for the upgrade. The original remains as-is.

You can tell Lightroom where to save the version 2 catalog by clicking the Change button in the New Catalog Destination section of the dialog and navigating to a new location on your disk.
Click Continue once you've made your decision, and the upgrade process will begin. The result is that you will end up with both your original catalog and an upgraded copy.

One important item to note is that Lightroom 2 will take over the preexisting preview cache. It does this based on the assumption that you want to start using Lightroom 2 with this new catalog right away and that you don't want to wait while Lightroom 2 regenerates all the previews from scratch. I think it is a sound assumption: Just remember that if you go back to the previous version of Lightroom to open that old catalog, it will have to regenerate the previews from scratch. This is not a problem, but you will see some gray boxes at first until the previews are generated.

If you have multiple catalogs (including LR2 Beta catalogs) that you want to upgrade to Lightroom 2, you can do one of two things:

Either open them individually via the File > Open Catalog menu, which will result in Lightroom 2 relaunching with that catalog, and then initiating the catalog upgrade process.

Or import the other catalogs into your new Lightroom 2 catalog by using the File > Import from Catalog menu. This operation will look a little different, because first Lightroom has to upgrade a copy of the old catalog before it can import from it. When the Catalog Must Be Upgraded dialog appears you will have two options:
Save the upgraded catalog
Discard the upgraded catalog after import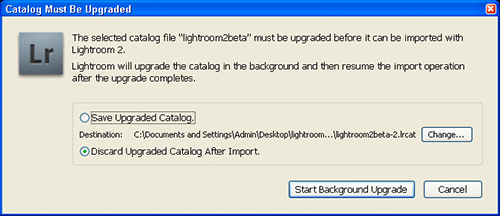 The choice is yours and will depend upon your circumstances and reasons for importing. There is no wrong answer. Once you choose your option the upgrade process will begin, then the Import process will follow.

As far as what to do with your old catalogs, welll if you want the piece of mind then I would suggest just leaving them as-is for the next 30 days (or so) until you've gotten used to Lightroom 2. Then if you still want to play it safe, archive the old catalogs to DVD, remove them from your hard drive, and keep moving forward. If you are going to keep your old catalog files then be sure to also keep a copy of the installation file for that version of Lightroom too!