Here at Adobe Press, we've paused to catch our breath after releasing the first crop of new books in the popular Classroom in a Book series, now freshly updated for Adobe Creative Suite 4.

We're especially proud of getting most of the new editions out within 2 months of the release of the new software—those who know anything about publishing books on software will recognize what a feat that is!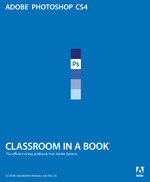 The books teach Adobe products using a project-based teaching style, featuring step-by-step procedures supported by copious full-color illustrations. Bound into the back of each book is a CD-ROM (or DVD-ROM) containing all the project files you need to follow along with the lessons. Naturally, each book incorporates fresh material showing off what's new in CS4, and they bear spiffy covers that echo Adobe's spartan packaging for the software itself.

The first batch to see the light of day were these best-sellers:
Adobe Photoshop CS4 Classroom in a Book
Adobe Illustrator CS4 Classroom in a Book
Adobe InDesign CS4 Classroom in a Book
Adobe Dreamweaver CS4 Classroom in a Book
Adobe Flash CS4 Professional Classroom in a Book
The second group included a brand-new member of the series:
ActionScript 3.0 for Adobe Flash CS4 Professional Classroom in a Book
Then the two video volumes:
Adobe Premiere Pro CS4 Classroom in a Book
Adobe After Effects CS4 Classroom in a Book
Finally, the one book to rule them all:

Adobe Creative Suite 4 Design Premium Classroom in a Book
This title is focused on integration subjects—in other words, how to use the various programs in the Design Premium suite in concert to produce items as diverse as printed brochures (which can also be exported as interactive documents), Web pages (stating with the prototyping stage), interactive Flash documents, and interfaces for mobile devices. One lesson also covers a number of document comment and review workflows that use Acrobat 9.

All of these books are available now at Peachpit.com or at a bookstore near you.
Oh, and one more thing...we have a late addition to the list! In early 2009, a brand new book on Fireworks CS4 will join the CiaB lineup. Check back in a couple of months for an update.