Joe McNally, Mr. Hot Shoe himself, is splashed all over USA Today. And he didn't even have to do anything scandalous!

If you picked up a USA Today, flip over to the Money section (or click this link). Joe McNally, author of the wildly popular books, The Moment It Clicks and The Hot Shoe Diaries, is smiling, with book and flash in hand, at the top of the front page of the Money section!
A quick turn to page 2C shows a larger-than-life shot of Joe standing atop a great article by Jefferson Graham about the latest craze: flash photography.
All the cool kids are doing it. "They start to realize that if they're really going to get serious about their photography, they have to learn how to use the flash," he says. "Once they do, they really get it. I've never seen so many people jazzed."
Speaking of jazzed, Ted Waitt, editor here at Peachpit, was pretty jazzed when he read the article today.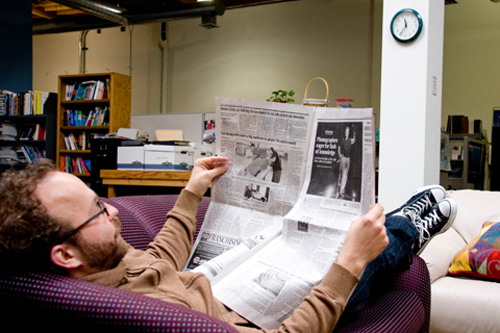 "If you say, 'I'll never use a flash,' then you've lopped off many opportunities." Wise words, Mr. McNally. Wise words, indeed. Congrats!


Are you a flash fan? Would you like to offer congrats to Joe? Two random tweeple who comment on this post with their Twitter name will win a copy of their choice of either The Moment It Clicks or The Hot Shoe Diaries! Get an extra entry by sending a Twitpic of you with either the book or the article to @Peachpit!

Here's our first reaction: