The last and most crucial part of the signup framework is, of course, the registration form itself. And it's finally time to talk about it.
In the previous four posts in this blog series, I've talked about the value proposition, the investment breakdown, the call to action, and how to turn the blank slate into a self-guided tour. You've enticed him, communicated clear benefits, encouraged him to get started, and walked him through the first step to being productive. At long last, let's assume you've convinced the proverbial user to sign up.

Get 'em signed up

Many, many things can go wrong in the moment a user tries to complete a form, and registration forms are certainly no exception.

First, a user can make plenty of mistakes. They can choose a username already in use by someone else, enter mismatched passwords, skip past a required field, forget to check a Terms or Service checkbox, or any number of things.

Second, a user with only a half-hearted commitment to signing up can be deterred by a lengthy registration form, suddenly deciding it's just not worth the time or energy.

Third, a signup with a tricky confirmation process can lead to confusion and end up frustrating the user. For example, many registration processes require that the user check his e-mail for a message that was auto-sent upon registering and ask him to click it to confirm the address is legitimate. Seems easy enough, right? But what happens when the user doesn't notice the message to check his e-mail? What happens if he gets a phone call and forgets?

Registration needs to be a painless process. When you've done all this work to get a person to sign up, the last thing you want to do is alienate him in this important moment.

Here are a few pointers for making sure he sticks around.

First, remove anything from the signup form that you don't absolutely need. In most cases, all that's needed is the user's name, e-mail address, and password. In many cases, you don't even need his name (though it is nice to be able to use his name in the newsletter e-mail you'll inevitably send later on).

PearBudget does a great job of this, asking only for the e-mail address and password.



If you need your users to build up more comprehensive profiles, save this step for later whenever possible. Get them signed up first, then ask them for their life stories.

Keeping the form as short as possible lowers the barrier to entry quite a bit, especially considering that you're not asked to register until you've already gone through the setup process and started using the application.

Next, if you're worried about getting a ton of illegitimate signups as a result of scrapping the confirmation e-mail step, try this: After the user clicks to sign up, ask him to enter a confirmation code shown on the page. Or use a CAPTCHA during the signup process to prevent the spam-bots from getting through. (Just try to get the whole process contained within the site instead of asking the user to leave your site and come back to it!)

Finally, since everyone makes mistakes, even on the simplest forms, be sure to use validation of some kind so that users can catch and correct their mistakes right then and there, and make sure your error messages are written to help users do things correctly. Stealing an example from my own company's site, here's the validation used on Miskeeto's contact form: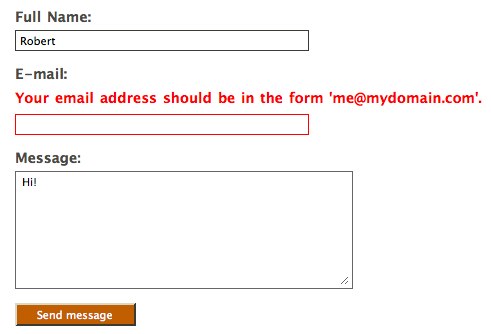 By keeping the registration process dead simple, signing up becomes an easy decision to make. And since you've already enticed the user with a clear value proposition, quelled his concerns with a investment breakdown, compelled him to get going with a call to action, and then made it easy to get up to speed by filling up your blank slate with information and entry points, registration becomes a no-brainer.

Instead of assuming people will flock to your site, eager to hand over their e-mail addresses and credit cards, you've put all the elements in place to make sure people see the benefits of signing up, how to use the application, and ensure the registration process itself is a cakewalk.

For much more information on the principles of great Web application design, check out my two books on the subject, Designing the Obvious and Designing the Moment, available for purchase right here on Peachpit.com!

This is Part 5 of a five-day blog series focused on tips based on Robert Hoekman Jr.'s book, Designing the Moment. In this series, Robert discusses ways to get new users over the crucial hurdle of signing up. Click here to see Part 1, Part 2, Part 3, and Part 4.