Do you need help with common portrait challenges like lighting and posing? How do you work with your subjects to get photos they are truly happy with? Whatever your portrait-making needs, we have you covered! Here are a few books to get you started.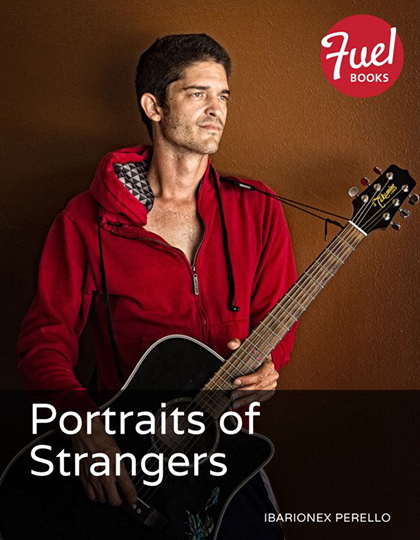 In this short but intriguing ebook, photographer Ibarionex Perello discusses the challenges and rewards of portrait photography, primarily through the lens of capturing images of people he encounters on the street. The book is filled with great tips from an enthusiastic and encouraging coach, including:
Prepare yourself by monitoring the quantity and the quality of the light;
Be ready for the unexpected;
And learn how to maneuver your camera quickly and effectively so you don't miss that perfect moment.
By familiarizing yourself with the buttons and dials that control aperture, ISO, white balance, and focus, you'll be able to make changes in seconds rather than fumbling with the controls while your subject walks away. Plus, Ibarionex offers great advice on perhaps the most important and challenging aspect of street photography—approaching your subject in the first place, and overcoming the fear of rejection. He has learned after years of practice that most people are pleased to be deemed worthy of a photograph—but you'll never know if you don't ask. "I usually approach with a big smile and that enthusiastic compliment," writes Ibarionex. "I want them to know that I only make photographs of people that I personally find fascinating and are in possession of something special." Now, who wouldn't be flattered by that kind of greeting?!
To learn more about Ibarionex Perello, check out his bio and other products here:
Photographer Allison Tyler Jones begins her book by suggesting that those who have chosen to specialize in photographing kids may be a little bit nuts. "We've made a career out of making crazy faces, rolling on the floor, and snorting like a pig just to elicit some expression from a grumpy toddler. Isn't there an easier way to make a living??"
With a great deal of humor and humility, she explains that what differentiates these photographers from others is an eagerness to capture the openness and wonder of being a kid. Unlike most books that cover techniques for photographing portraits, this one teaches you things like how to achieve a 3:1 lighting ratio when you can't even get a kid to stay in one place, let alone look at the camera; and how to deal with the mom standing behind the photographer coaching her child to "smile, honey!" You'll learn her tried-and-true (and sometimes weird) tricks for getting authentic expressions from your subjects, and pick up practical tips on how to style, pose, and direct every shoot.
As she demonstrates, the key to successful child photography is to "push beyond the ordinary and the safe. In the process you'll make some big mistakes, but in the end you'll make your best images ever."
To learn more about Allison Tyler Jones, check out her bio and other products here:
Portrait Photography: From Snapshots to Great Shots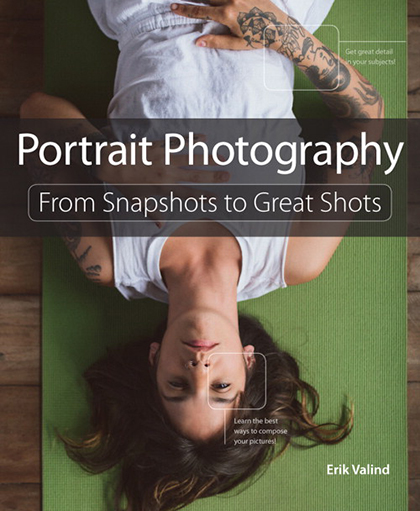 In this straightforward guide from photographer Erik Valind, you get all the info you need to take your portraits to the next level—from advice on camera settings and lens selection, to clear and direct communication with your subjects, to specific techniques for handling a wide range of lighting environments to make people look their best.
After reviewing the basics, Erik jumps into the most critical element of a portrait: the subject: "People first; all else second." With this in mind, he shares some great tips on how to communicate with your subject to put them at ease. For example, "Once you know each other, you then need to set the mood. I don't mean dimming the lights; I mean cranking up the jams! Music is the key. Ask your subjects to bring along their iPod or phone with a playlist of their favorite music. This sets the mood and eliminates any awkward silence that can crop up while you're fiddling with gear or camera settings between shots."
He provides detailed suggestions on posing your subjects in a flattering way and also offers deep coverage of another key aspect of portraits—lighting—discussing how to identify the quality and direction of natural light, when and how to use an on-camera flash to provide that added sparkle to your subject's eye, and deciding what type of light modifiers to use and how. Finally, he pulls everything together with example scenarios of individual and group portraits.
Plus, to help you along, he provides assignments covering techniques discussed in each chapter, encouraging you to put what you've learned into practice as soon as possible. This way you can focus on your subject at the next photoshoot, and not on trying a new tip or technique for the first time.
To learn more about Erik Valind, check out his bio and other products here: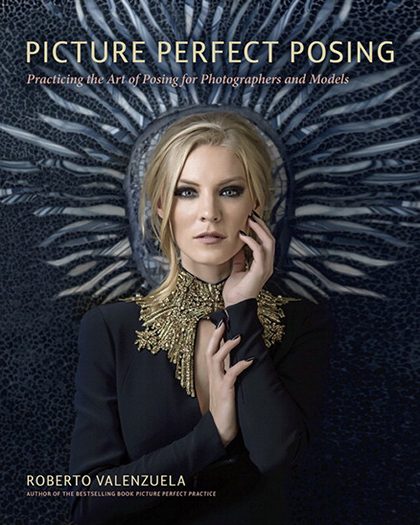 Most photographers turn to "comfort zone" poses to make sure that they safely get usable photos . . . but this does not necessarily result in the best photos! In addition, photographers often memorize poses without examining why they return to them even when they may not depict the way people naturally interact. Having faced these challenges himself, Roberto Valenzuela created a 15-point system called the Picture Perfect Posing System (P3S) to simplify the posing process. As Roberto explains, the human body can be shaped, bent, and contoured in countless ways that can yield interesting visual results. Yet despite the variation, there are some universal techniques that make the human body look more relaxed and at ease. Roberto shows you how to understand the structure of the body and effective poses so you can build a successful pose from scratch.
With this system as a guide, you will learn how to create poses that look effortless, pleasing to the eye, and comfortable for the client. You'll understand how to pose a person's arms to focus attention on his or her face, and what to do with a person's legs so that the body looks more relaxed. Learn how to create an inviting portrait instead of a defensive one, how to angle a couple's faces (especially their noses!) so that they look natural, and much more.
And once you know the rules of the system, you can break them! By applying these methods strategically and intentionally, you can truly realize your vision and achieve the best poses for your clients.
To learn more about Roberto Valenzuela, check out his bio and other products here:
The Art of Boudoir Photography
Boudoir photography can be transformative. Through it, a woman can discover how to make a life change, to celebrate being a woman—alive and happy with herself and her body. And so the role of boudoir photographers is very important—like their subjects, they must put their heart and soul into the process and provide encouragement and direction to capture the "genuine, unique, sensual woman inside." The goal of the boudoir photographer is to help make women look and feel confident, beautiful, and sexy.
This book is about working with different types of women—addressing nerves, fears, and doubts; and creating an unforgettable, life-changing experience. It's about capturing sensual movement and poses, and conveying authentic emotion. It's about working with professional stylists to tell a story, and using one light to create flattering portraits. It's about understanding and cultivating your vision and communicating your vision through the camera. In these pages, Christa Meola shows photographers how to do all of this and more, and above all, how to empower women and help transform their lives.
As one client said about herself and her relationship after her photo shoot with Christa: "Your boudoir pictures . . . made me realize I can be sexy and beautiful in my own skin, however that may look at the moment. What started as an idea to do something different from my daily life for my birthday ended up being the best gift I could have imagined, for me and for us."
To learn more about Christa Meola, check out her bio here: