Whether you're exploring a nearby town or wandering far off the beaten path, these books will show you how to capture the photos of your trip that you really want. Just remember to have fun—making great images in the process!
So . . .
You've got your plane tickets or your Google Maps app at the ready;
Your itinerary is more or less set;
And you've even begun making the ever-helpful packing list—toothbrush, check; light reading, check; footwear, check; 24-100mm zoom lens, check—
Oh, wait! Maybe you're not quite totally up to speed with what you need to get the photos you really want on your trip—maybe it seems too overwhelming or expensive to get the "right" equipment, or you're too pressed for time to master the art of travel photography before you go. Fear not—whatever your time or monetary constraints, and whether you're flying across the Atlantic or road-tripping a couple towns west on Route 66, we've got the resources for you! Here are few suggestions to get you started on your geographic and photographic journey….
Travel and Street Photography: From Snapshots to Great Shots

In this "From Snapshots to Great Shots" guide, photographer John Batdorff helps you take your street and travel photography to the next level. John understands that you may not be traveling far and you may be interested in cityscapes as well as rural landscapes, so he breaks it all down with clear and friendly instruction so you get the info you need to get the shots you want, in whatever situation you find yourself.
John starts with advice on the equipment you'll need, as well as tips on planning your adventure, like researching your destination and creating your ideal shot list. He also discusses photography basics like exposure and composition so you have a solid foundation before beginning your journey. After an overview of how to observe and engage with your subject, you'll head into the city and explore long exposures, night photography, and public transit–inspired shots. Then it's off to the countryside to learn about photographing landscapes, wildlife, and the joys (yes, joys!) of a family road trip. As a plus, you'll learn how to deal with legal issues related to photographing people in different places, and get John's tips on establishing an efficient workflow—so that rather than worrying about pesky tech or business issues, you can focus on photo-making and enjoying your trip!
To learn more about John Batdorff, check out his bio and other products here.

Tips from a Pro: Travel Photography

Don't be deceived by its brevity; at 67 pages, this little ebook from Nicole Young is packed with tips that cover all the basics of travel photography—from researching your trip and what gear to bring, to ideas for photographing people, landscapes, food, and more—so you can quickly get up to speed on the endless ways to capture your next adventure.
You'll find strategies for packing the gear that gets you the most bang for your buck, with suggestions for going small—including mirrorless cameras that are compact and quiet; using a GoPro, which can be attached to almost anything; and using a smartphone when you just want to travel light and enjoy your environment. Nicole addresses the importance of research, including links to helpful websites and tips like checking the timing of important festivals or popular seasons so you can be at the right place at the right time to get the shots you want.
While planning is key, you'll also discover the pleasures of getting lost, letting yourself wander with no agenda when the time is right. "Some of the best photos come from moments when you had no expectations and just set out on an adventure, not knowing what you would find." You'll get tips for escaping the "tourist" experience—setting out for the side streets and meeting up with local photographers to learn what a place is really like. And you'll learn how to find adventure in your own backyard—keeping your exploration close to home, you can change your mindset to that of a traveler, driving down roads you normally never take, or setting out for a nearby town to see the "ordinary" in a whole new light.
To learn more about Nicole S. Young, check out her bio and other products here.
In this classic from world and humanitarian assignment photographer and best-selling author David duChemin, you'll set off on a "journey of photographic vision," learning how to tell meaningful, compelling stories through photographing people, places, and cultures. David teaches how to seek and serve your creative vision through the art of photography, highlighting his images taken on a month-long trip around the world visiting five countries—Cuba, Egypt, Nepal, Thailand, and Vietnam. In these places, David sought the chance to find and express his vision . . . yet as he demonstrates in the book, you need not travel far to find your vision and express it in a way that matters to you.
David addresses the nuances of approaching different types of subjects—whether people from other cultures, children, or the elderly; the value of researching and scouting locations, as well as an appreciation for what can happen when you allow yourself to wander in an unfamiliar place; techniques for photographing landscapes; how to capture a sense of place and culture with sensitivity through images of food, festivals, art, faith; and more. Above all, the book encourages you to search for what matters to you and not give up until you convey it through your art: "I'm chasing my vision, and you will chase yours in the places best suited to that. What's important is that you chase that vision intentionally and with passion, refusing to let it be anything but yours and yours alone." It's virtually impossible to put this book down without feeling inspired during your travels!
To learn more about David duChemin, check out his bio and other products here.
The Photographer's Guide to the Golden Gate Bridge

Overlooking the San Francisco Bay and connecting one of the world's most scenic cities with the rolling hills of the Marin Headlands, the Golden Gate Bridge has, for decades, been inspiring amateur and professional photographers who want to create memorable images.
In this concise yet detailed ebook, photographer Rob Dweck shows you where, when and how to make great photographs of the bridge. Follow along as Rob discusses all the best vantage points for capturing unique images, including locations in San Francisco, Marin, Angel Island, Treasure Island, and the Easy Bay. He'll help you plan for the (often unpredictable and widely varied!) weather of the Bay Area, determine the best gear to bring, and more. Plus, to help you navigate your way to the suggested spots, Rob includes live links to GPS coordinates that open maps to most of the locations he describes. So you'll have all the info you need to create images that capture the magic of this beautiful landmark.
To learn more about Rob Dweck, check out his bio here.
The Photographer's Guide to Paris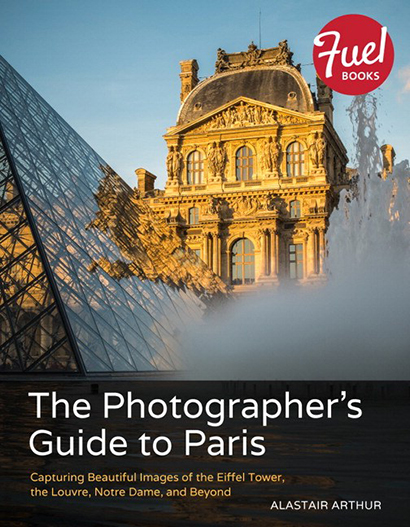 Photographing the Eiffel Tower can be daunting; after all, it's one of the world's most iconic structures, offering endless photographic possibilities and a challenge in making any image truly unique. But in this Fuelbook, photographer Alastair Arthur helps you work around such obstacles, pointing you in the direction of making fun, original photographs, so you can focus on enjoying your trip and getting creative. Maybe you'll shoot the tower from Trocadéro, which offers an elevated view and plenty of flat surfaces for tripods; or maybe you'd like to shoot from Champ de Mars Park to provide foreground detail and a sense of scale. In this book, you'll get all the info you need to make interesting Paris photos, whether you have a month or only a weekend in this beloved and beautiful city.
In addition to these tower-capturing tips, you'll get advice on photographing many other key locations in and around Paris, including Arc de Triomphe, Notre Dame, the Louvre, and Versaille, as well as various parks and hidden gems like markets and cemeteries. For every location, Alastair shares with you when to go and his suggestions for viewpoints ideal for photographs. He also includes links to Google Maps, so you can click through to see the location online, especially handy if you're reading on a smartphone or tablet while traveling. And he provides a plan for a weekend visit to help you prioritize for a short trip, as well as a calendar listing of major events and festivals so you know exactly what to look for during a given time of the year. With this guide, you can't wrong in planning your Paris photography tour!

To learn more about Alastair Arthur, check out his bio here.