You don't have to have drawing skills to be a designer. But most good designers have developed some illustration skills that are useful for many different projects.


If you need an illustration or some kind of visual element for a design project, don't automatically go straight to your favorite stock art web site. Consider creating some art yourself. Better yet, don't wait for a design project to come along. Just start creating images for fun, experiment, and toss the stuff you don't like. Eventually you'll have a stock art library of your own.

Even without sophisticated drawing skills, you can develop a style that's comfortable for you and that has an appeal that more "finished" illustrations might not have. To be blunt, we've seen some really dorky illustrations on award-winning designs. And we loved them. So don't try to be "good." Just be brave.

Several days ago we went to a David Hockney exhibit at the Royal Academy of Art in London. The gallery was filled with very large paintings, but one room included about a dozen iPads on the wall of original Hockney iPad landscape paintings. As demonstrated by Hockney's paintings, large and small, color and stylized simplicity can be as satisfying as technically accurate drawing (or painting).

A couple of days later, during a rendezvous in a pub, a friend mentioned that he had gifted his mother a finger painting app called Brushes. His mother now sends him a painting a day, and as she becomes more familiar with the app, the paintings are getting better and better.

Painting with your finger is forces you to loosen up and not worry so much about tiny details. It's also very fast. And it's forgiving, with multiple undos and digital erasing. You can experiment as much as you want, save the stuff that has potential, and move on to another drawing.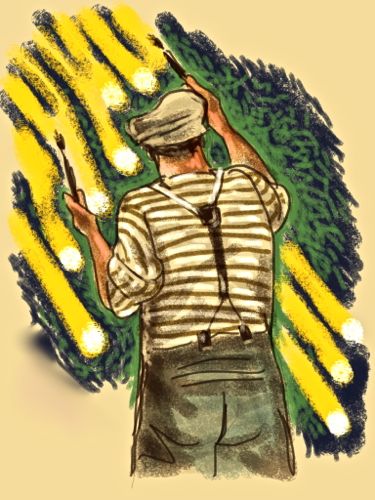 After going to the David Hockney exhibit, I made a charcoal sketch of the gallery brochure cover, Hockney working on one of the painting in the show. Later, with the Brushes app, I recreated the Hockney image from memory, not caring how accurate it was, but just to get familiar with the software. The app allows up to six layers, and each layer can be set to various Photoshop-like blend modes. It's very flexible and, most importantly, a lot of fun.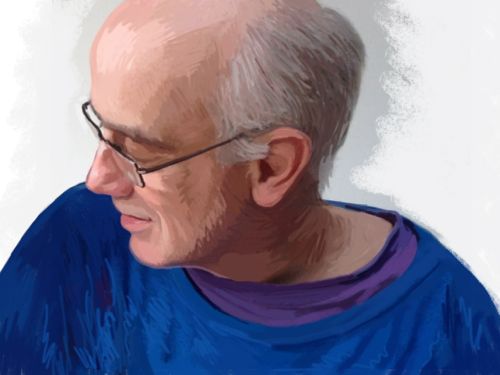 To experiment with other techniques, I imported a photo of a friend, then on other layers painted on top of the photo. Pressing on the screen samples the color underneath your finger. Release and scrub with your finger to paint with that color.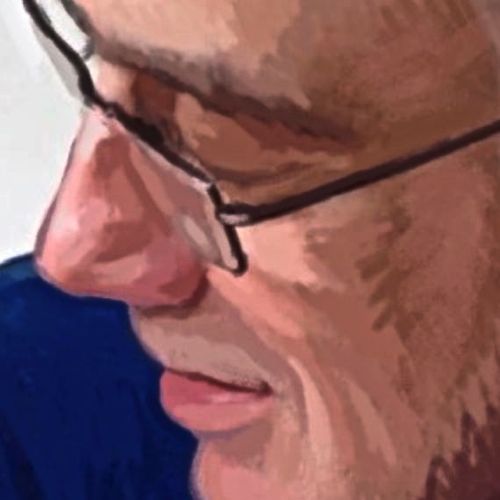 This closeup shows the painterly effect you can achieve by painting on top of a photo. The sketchy nature of the finger strokes adds a feeling of spontaneity.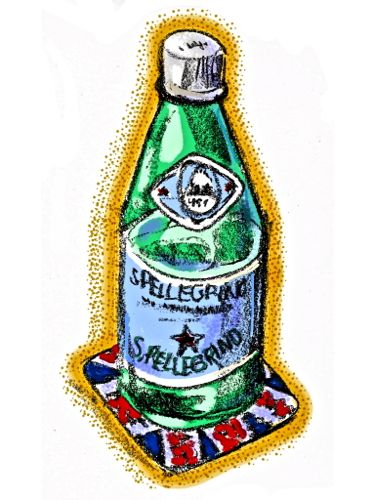 More experimentation. A rough charcoal sketch is scanned and imported into the app, then color is added.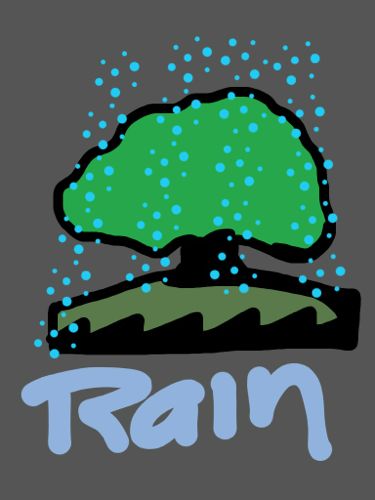 One more variation of style. Super-simple graphics and limited color, with hand lettering. Finger-lettering actually.

Of course, you don't have to have an iPad or a painting app to experiment with simple, stylized illustration technique. Some designers love the feel of traditional tools. But if you're like us, the speed, convenience, and fun of digital drawing and painting is a dream come true.