Sometimes working with multiple assets in a Creative Suite environment means a lot of hunting and gathering of images. In earlier versions of Adobe® Photoshop®, it was easy with the File Browser in Photoshop CS. By the time CS2 came around, the File Browser had disappeared to be replaced with Adobe Bridge. While this was a great addition as it let you browse and search for other content in a separate application, I always hated having to leave Photoshop in order to search for things. Thankfully all of this has been changed back with the inclusion of Mini Bridge in Photoshop CS5. There are a couple of features in here that I think are really valuable.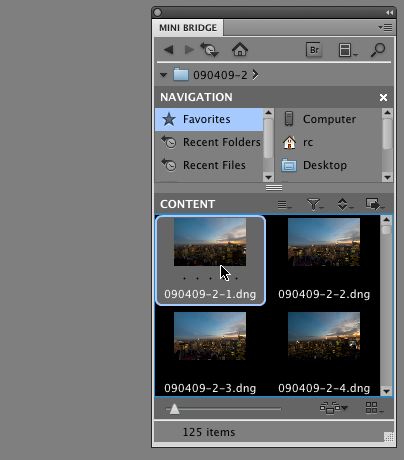 One of the first things that I think it does well is the ability to navigate to a specific image on the hard drive and drag the image from the Mini Bridge onto the Photoshop space — and we're done! I'm a big fan of "saving clicks." If you can get something done with fewer clicks, that amounts to a time increase for me and makes it totally worth upgrading.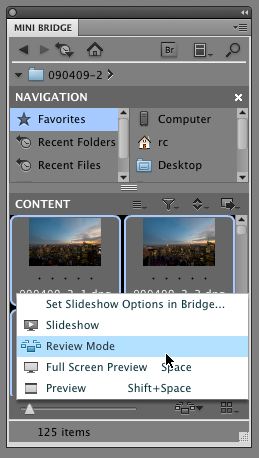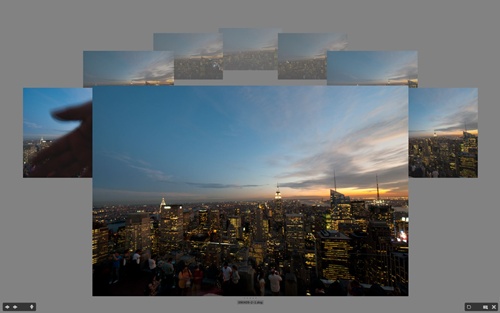 My other favorite features of the Mini Bridge sit with its Slideshow and Review Modules. If you single click on an image and press the Spacebar key you can go into a full screen preview of your image. Single click a series of images and press Spacebar? Instant slideshow. No more presentation software or export to another program needed! Review mode is great as well. Having a series of images selected, you can click on the drop down in Mini Bridge for Review mode, and all of the images appear in a carousel based layout. Use your left and right arrows to go through the images. Once you find an image you don't like, simply click on the down arrow and remove it from the group. You can then continue the comparisons, using the down arrow to strike images, and bring yourself to the one image you want to use. Hit the Escape key and the image that you have selected will appear in Mini Bridge – ready for you to drag out.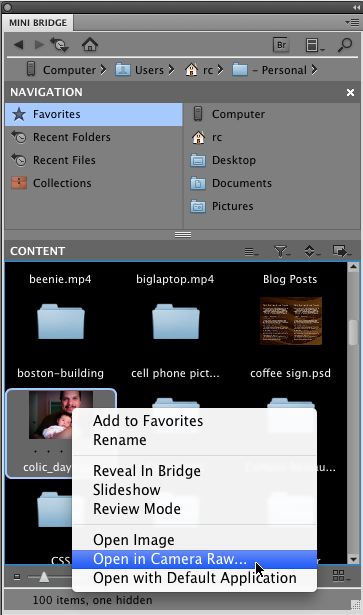 My favorite feature has to be the "Open In Camera Raw" option you have in Mini Bridge. Here's the short of it: There are a lot of people who like using Adobe Camera Raw as a basis for tonal editing, even though it was designed for Raw images. To open an image with Camera Raw from within Photoshop meant you needed to click on File>Open, navigate to the JPG image you wanted, select it, then change the file type drop down to Camera Raw – in that order. This seemed very counter intuitive to me. Now inside of Mini Bridge, all we need to do is right click. In the context menu, they've placed "Open In Camera Raw," making this type of editing a breeze.
Mini Bridge exists to save you time and headache from jumping back and forth between applications. This time saver gets an A+ in my book!