In the previous post, I talked a little bit about how the changes in Camera Raw with CS5 now take the automation of tasks and make them easier, but what if you have been using Camera Raw for a while and all you've been doing is working on a file at a time? What if you don't know just how much you can automate right from within Camera Raw? Let's take a look at this now.
There Are Two Versions of Camera Raw on Your Computer
First, let's cover the basics. There are actually two versions of Camera Raw on your computer. There is the version that sits inside of Photoshop, and the version that sits inside of Bridge. Knowing which one to open in a specific case makes multitasking easy.
If you open up a file by doing a Right Click>Open in Camera Raw, Command-R, or File>Open in Camera Raw from withing Bridge CS5, you are going to call the Camera Raw that's built into Bridge CS5. If you click on File>Open from inside of Photoshop, or Right Click>Open in Camera Raw from within Mini Bridge, you will open up Photoshop's version of Camera Raw. I always recommend that if you are doing adjustments to multiple images that you open the files inside of Bridge. This lets you go back into Photoshop and continue working because the Camera Raw dialog box isn't in the way.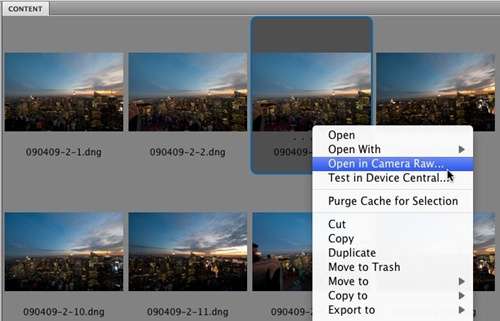 You Can Select Multiple Images in Camera Raw
This is an easy one. If you have been double clicking on the Raw files in Bridge, you are really missing out on some batch editing. You can actually single click on one image, and single click on the last image in a series, and any images that sit in between those two images will be selected. If you single click on one image and command click other images, then only those images will be selected in Bridge. Once you have those images selected, click on Command-R, and all of those images will be opened in Camera Raw. You'll notice that you have a scrollbar on the left hand side with all of the images that you selected.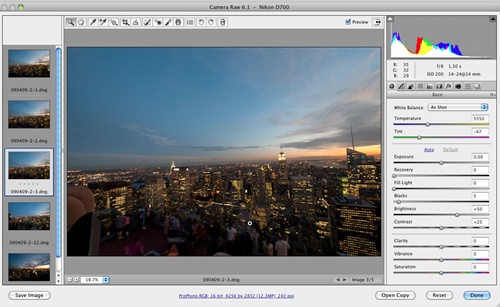 Synchronize Selections
When you have multiple images loaded in Camera Raw, you can single click on each image and make corrections to them on a case by case basis. However, if all of these images need similar corrections, I suggest that you make the correction to one image. Once you have that first image complete, click on Select All. This will select the other images in the window, leaving your image as the source image (you can see it with a darker border than the others). Having that set, you can click on the Synchronize button and you can check off any of the sections that you made changes to. Clicking on OK will apply those changes to all of the other images.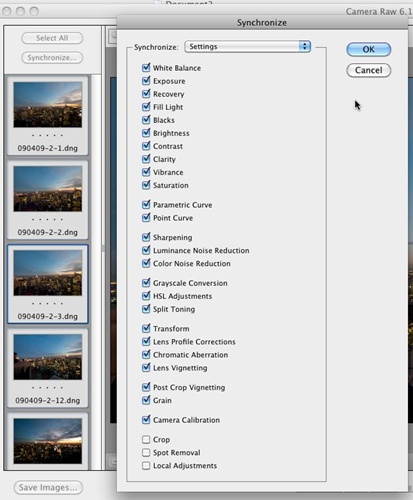 Use Presets When You Can
On the right hand side of the panels you have a Presets panel that will let you save any changes that you made to the image as a pre-canned effect. If you find that you do something more than once, it's probably a good idea to make a preset out of it. Once you have the preset made, you can highlight all of the images and apply the preset.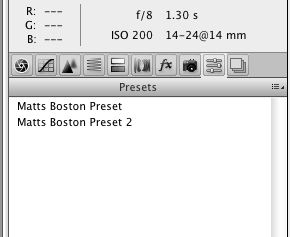 Use the Save Images Option
If you are only making tonal changes in your images and don't need to do Photoshop-based touch ups, use the Save Images option at the bottom left of the Camera Raw window. This will bring up a dialog box that will let you specify which directory you want to save the changes images into, as well as file types, file names, and quality options. The great part about this is that if you have 300 images that you want to save out as JPG files, you can set those changes here and click on this Save option. Bridge and Camera Raw will then work on these files, and Photoshop is not used at all. You can go back into Photoshop CS5 and work on something completely different.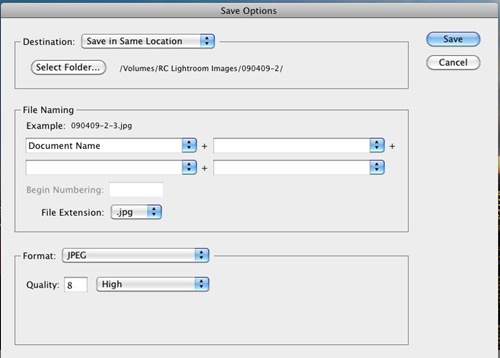 Now THAT is true multitasking Power!!