A great change in Adobe® Photoshop® CS5 is the smarter way to be able to make selections. Photoshop CS5 now offers things like Smart Radius and Color Decontamination- two tools that will take all of the pain about making selections. Let's explore that now.
Take a look at the following image from Istockphoto: http://www.istockphoto.com/stock-photo-3410485-active-mature-woman-exercising.php. This image can pose several problems when you are trying to make a selection. The woman has blonde hair and is standing in front of a blue sky. Hair has always been the bane of existence in the masking arena. The sky complicates it by introducing blue near the yellow pixels, guaranteeing that there will be some blue color spilling over onto the image.
Using the quick select tool single click and drag inside of the woman, making sure you include the bottle in her hand and the shorts.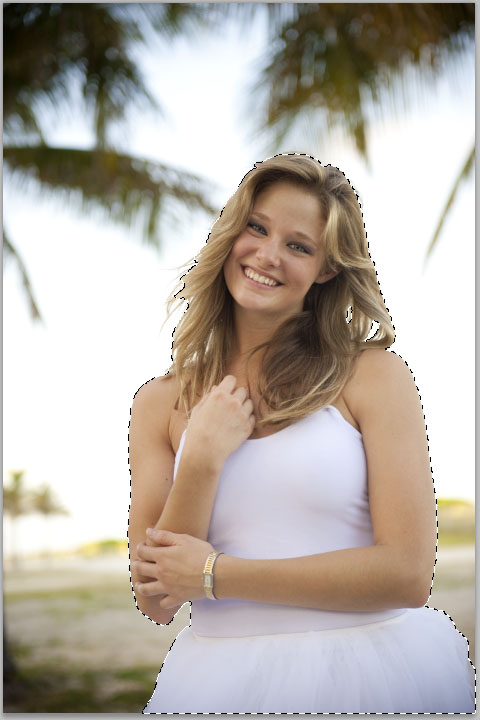 .

If at any point you get too much of the sky behind her, simply hold down the Option (PC: Alt) key and the quick select tool will turn into a Minus, letting you remove portions of the selection. If you remove too much, hold down the SHIFT key and it will turn back into a Plus sign, allowing you to add more mask. The most understated thing in Photoshop is the fact that these selections are actually "Smart" selections – learning about what you are keeping and deleting as you use those commands. You'll see that it becomes more intelligent about a given area the more you use it.
The quick select tool does a great job in this image, but Refine Edge will make this selection really shine. Click on Select>Refine Edge and you will be brought to a dialog box where you can make even further changes to the image. The Edge Detection area has a Smart Radius checkbox that should immediately check.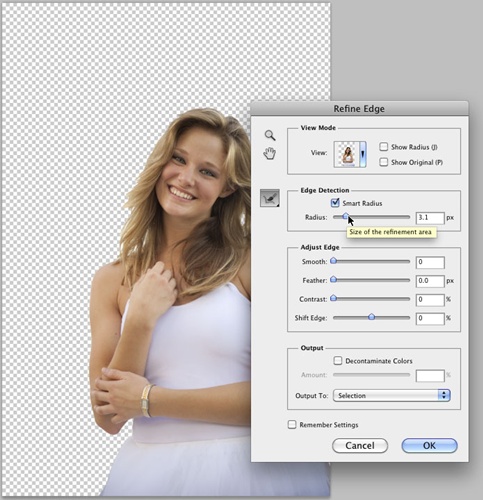 This will take the selection and vary it along the edge, making the selection smarter than any other version of Photoshop. Increasing the Radius slider in this dialog box will take the selection and further clean it up.
The best way for you to see how well this selection has cleaned up is by clicking on the View drop down and selecting the Black and White option. This will show you a traditional mask for the selection, letting you admire how much work has already been done for you.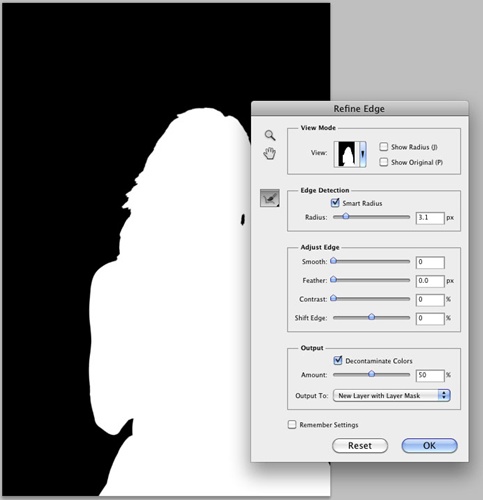 In the event that the selection isn't exactly what you needed you can always use the Refine Radius tool on the left and remove from the selection by holding down the Option (PC: Alt) key and painting over the area. Once you have your selection ready, simply click on the OK button. This new feature in Photoshop CS5 should be on the short list for why you should run out and upgrade immediately!