The ease with which you can share movies on your MobileMe Gallery page, YouTube, or iTunes will amaze you and your friends.
1 Open a movie file in QuickTime Player: From the File menu, choose "Open File…" then select the movie (or audio) file you want to play. Or, drag a file and drop it on top of the QuickTime Player icon (in the Dock or in the Applications folder).
2 Click the sharing icon (shown circled below) in the playback control bar, then from the pop-up menu, choose one of the options to save your movie to iTunes, MobileMe Gallery (a MobileMe paid membership is required), or YouTube (a free YouTube account is required). You can also choose these same options from the Share menu in the top menu bar.

To save or export your movie in a format optimized for viewing on various devices or on the Internet:
From the File menu, choose "Save As…." A dialog opens (shown below) to name the movie and choose a location to save it. Click the "Format" pop-up window (circled) and select one of the format options. Each option is optimized for a size and quality that's best suited for different devices. The "iPhone" option saves a movie that's high quality and fits an iPhone screen. The "iPhone (Cellular)" option creates a movie that fits the iPhone screen, but of lower quality and smaller file size for sending over a wireless broadband network.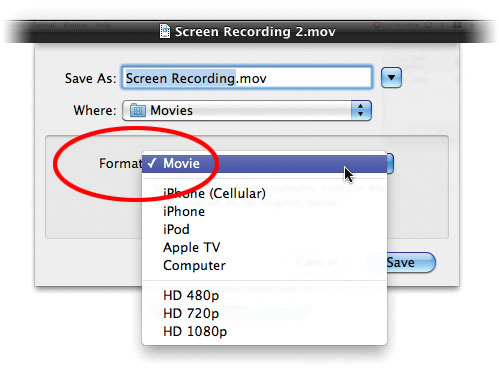 Also from the File menu you can choose "Save for Web…." The "Save for Web" option creates a folder of files for posting your movie to a web page, if you're familiar with the technical aspects of creating web pages. Included are a master "Reference Movie," additional movie files optimized for various environments (computer, iPhone, iPhone Cellular), and an HTML (a web page) that includes instructions for posting your movie to a web page, a preview of your movie, the code you'll need to paste in the head and body of your web page, and the option of choosing between two types of movie controller bars (a Javascript movie controller, or the original QuickTime movie controller).