Your movie might be longer than you want for saving in iTunes, or sharing on YouTube or your MobileMe Gallery page. QuickTime makes it easy to save or share just a partial selection of a movie or audio file.
1 Open a movie file in QuickTime Player: From the File menu, choose "Open File…" then select the movie (or audio) file you want to play. Or, drag a file and drop it on top of the QuickTime Player icon (in the Dock or in the Applications folder).
2 Click the sharing icon (circled below) in the playback control bar, then from the pop-up menu, choose "Trim…." You can also go to the Edit menu and choose "Trim…."
A thumbnail movie timeline appears at the bottom of the movie window, highlighted in yellow.
3 Drag the left and right sides of the yellow border to select the section of video you want.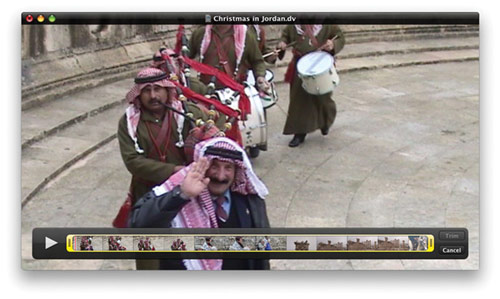 After you make a selection, the dark gray "Trim" button highlights in yellow (shown below). Click "Trim." The movie can now be saved to a location on your computer. Or, from the Share menu, you can save the movie to iTunes, MobileMe Gallery, or YouTube.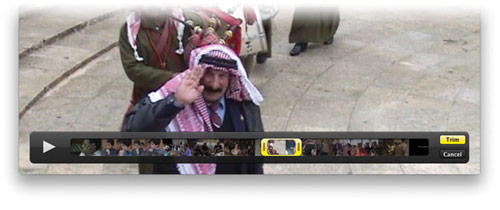 4 To trim an audio file, open it in QuickTime, then from the Edit menu, choose "Trim." An audio waveform bar appears on the file's window, highlighted with a yellow border. Drag the ends of the highlighted border to select the section of the file you want, then click the "Trim" button. Now you can save or share the audio file.