When you use iMovie to edit video footage, you can create and name chapter markers, then place them in the video timeline where ever you want. Later, when watching the video, you can show the chapter markers and jump straight to that section of the video. The chapter markers can be seen by iDVD, QuickTime Player, and Apple TV.
1 Open a movie file in QuickTime Player: Drag a movie file and drop it on top of the QuickTime Player icon (in the Dock or in the Applications folder). Or, from the QuickTime Player File menu, choose "Open File," choose a movie file, then click "Open." If the movie that opens contains chapter markers, a "Show chapters" icon (circled below) appears in the controller bar.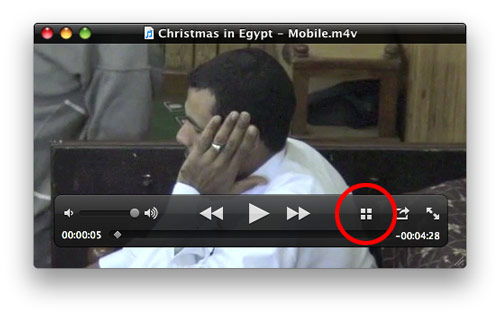 Click the "Show chapters" icon shown (circled above) to display thumbnails of all chapters (shown below). Click one of the chapter thumbnails to jump straight to that section of video.