Publishers of technology books, eBooks, and videos for creative people
Home > Blogs > Five Snow Leopard Tips in Five Days: Tip 3 - Do More with Expose
Five Snow Leopard Tips in Five Days: Tip 3 - Do More with Expose
One of the visible new enhancements in Snow Leopard is the appearance of Exposé.
Now it displays all windows (or all windows within just one application) in a grid that's easier to read. Apple has thrown in a few little touches for making Exposé more useful, too.
Press the F9 key to enter Exposé's All Windows mode. Open and visible windows appear; windows that you minimized to the Dock appear as smaller icons at the bottom of the screen. Now, try the following key combinations:
Press Command-1 to organize all the windows by name.
Press Command-2 to organize all the windows according to application.
Press the Tab key to switch from All Windows mode to Application Windows mode. The highlighted application appears in full color (not dimmed like the rest of the screen) in the Dock, and only its windows appear. Press Tab again to cycle through your running applications.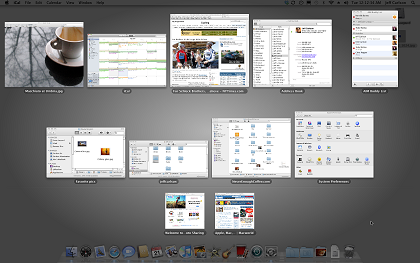 Other Things You Might Like

macOS Support Essentials 10.15 - Apple Pro Training Series:Supporting and Troubleshooting macOS Catalina

macOS Support Essentials 10.14 - Apple Pro Training Series: Supporting and Troubleshooting macOS Mojave