Some Mac OS X applications provide services that enable you to use content from one application with another. The content can include text, graphics, or movies. For example, the services for Mail and Safari (among others) are available from within TextEdit (Figure 1). This means you can use Mail to send selected text as an e-mail message or Safari to quickly open a selected URL.
Figure 1: The services for Mail, Safari, and other applications are supported by TextEdit, giving you access to other application features from within TextEdit.
Although these application services have been available in Mac OS X since its original release, Mac OS X 10.6 adds the ability to specify which application services appear on the Services submenu.
Tip: You can easily see which application will provide a service on the menu by looking at the icon to the left of a command name.
To use application services:
1. If necessary, selected text, an image, or a file.
2. Display the Services submenu under the application menu (Figure 1).
3. Choose the command you want.
To specify commands to appear on the Services submenu:
1. Choose Services Preferences from the Services submenu under the application menu (Figure 1). The Services list appears in the Keyboard Shortcuts pane of the Keyboard Preferences pane (Figure 2).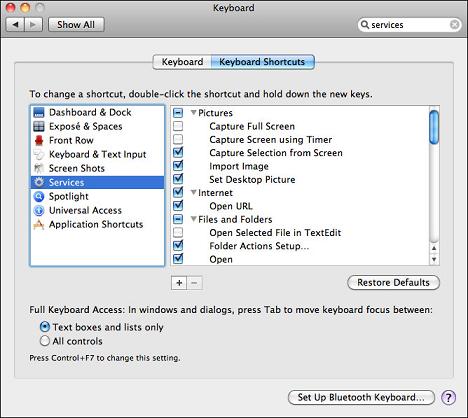 Figure 2: You can toggle check boxes here to determine which commands can appear on the Services submenu.
2. Toggle check boxes to enable or disable the commands that can appear.
3. Close the window to save your settings.
For more tips and step-by-step, illustrated instructions for using Apple's great new Snow Leopard operating system, please check out my Mac OS X 10.6 Snow Leopard: Visual QuickStart Guide.