There's been a fair amount of attention paid to the fact that you can stream video from iPad apps like the CNN app or the TED app to an Apple TV. You probably know that if you have powered Wi-Fi speakers, or an Airport Express, you can stream music from the iPad's iPod app to your stereo or powered speakers via Apple's AirPlay. But what you may not know is that other apps besides the iPod app can use AirPlay to stream audio, and there are a number of nifty apps that do just that.
In addition to Apple's own iPod .app and the GarageBand app, there's the Pandora app, which allows you to stream music from your own "channels" or listen to those created by other members or by Pandora. The NPR app supports AirPlay—you can stream audio from both interview and music programs (complete with playlists). All three apps are free (Pandora limits free streaming to 40 hours a month, and runs occasional ads). Other apps, like Last FM, or the AOL Radio app, have subscription fees but they also allow you to stream audio with a fair amount of control over the content via the music you tag and the channels you select.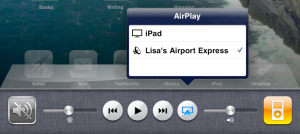 Some apps include an AirPlay icon in their interfaces; others, like Pandora, require you to select your Airport Extreme or WiFi speakers from the iPad's own AirPlay menu. To see the iPad's AirPlay menu, double-click the Home button, then flick towards the right along the bottom of the screen until you see the AirPlay icon as shown in the figure above; tap the icon to see the pop-up menu and choose your Express or WiFi speakers for output.
Lisa Spangenberg is the co-author of The iPad 2 Project Book.