Macworld is off to a great start, with exciting presentations and bunny ears galore!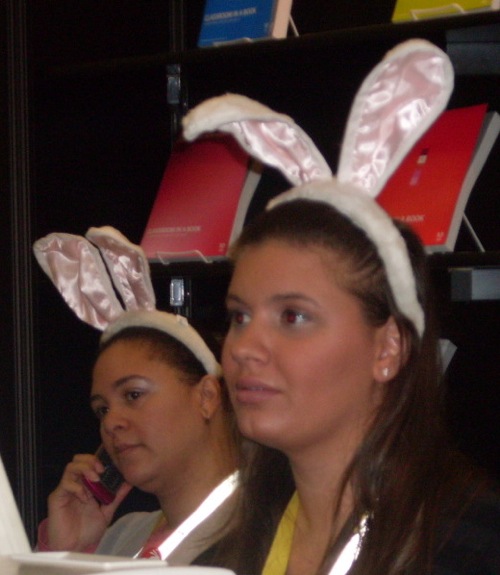 You've probably already seen them around. You might have thought to yourself, "Why are people wearing bunny ears at Macworld? Is this the latest in San Francisco fashion? Is there a tiny iPhone embedded in those ears?" You can find out why everyone is sporting the latest in bunny headwear at http://www.peachpit.com/macworld09contest. Once you know the secret, come by the Peachpit booth and join in the fun! And be sure to send a TwitPic in your ears to @Peachpit!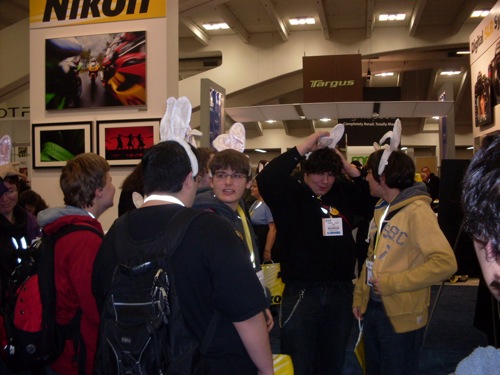 Our authors are hopping on board all week with some amazing presentations demonstrating the tricks of their trade. Come by and check them out! This is a great opportunity to see your favorite authors and experts do what they do in real-time.
Macworld Author Demonstrations at Peachpit Booth #812

Tuesday, January 6
11:00 am Sandee Cohen, InDesign CS4 for Macintosh and Windows:
Visual QuickStart Guide
12:30 pm Terry White, The iPhone Book, Second Edition
1:30 pm Jim Heid, The Macintosh iLife 08
3:00 pm Michael Rubin, The Little Digital Video Book, Second Edition
4:00 pm Chris Breen, The iPod and iTunes Pocket Guide, Fourth Edition

Wednesday, January 7
11:00 am Diana Weynand, Apple Pro Training Series: Final Cut Pro 6
12:30 pm Scott McNulty, Building a WordPress Blog People Want to Read
1:30 pm Jeff Carlson, Apple TV Pocket Guide, Second Edition &
iMovie 08 and iDVD 08 for Mac OS X: Visual QuickStart Guide
4:00 pm Bert Monroy, Photoshop Studio with Bert Monroy: Digital Painting
5:00 pm David Blatner, Real World Adobe Photoshop CS4 for Photographer

Thursday, January 8
10:00 am Mordy Golding, Real World Adobe Illustrator CS4
11:00 am Mark Christiansen, Adobe After Effects CS4 Visual Effects and
Compositing Studio Techniques
12:00 pm Norman Hollyn, The Lean Forward Moment: Create
Compelling Stories for Film, TV, and the Web
1:00 pm Richard Harrington, Apple Pro Training Series: Aperture 2
2:00 pm Jason O'Grady, The Garmin nüvi Pocket Guide
4:00 pm Adam Engst, iPhoto 08 for Mac OS X: Visual QuickStart Guide

Friday, January 9
10:00 am Mark Spencer, Apple Pro Training Series: Motion 3 &
Apple Pro Training Series: Motion Graphics and Effects in Final Cut Studio 2
11:00 am Richard Harrington, Apple Training Series: iWork 08
1:00 pm Andrew Faulkner, Adobe Photoshop CS4 Classroom in a Book
2:00 pm Joel Postman, SocialCorp: Social Media Goes Corporate

If you've already caught a few presentations, what did you think? Do you have a favorite? What do you think of Macworld 2009 so far?

Don't forget to come get your bunny on! :D