The engineers at Google are always working on something cool. Here is one that many developers will cheer about...a Maps API for Flash!
Mike Jones, from the team at Google responsible for this new feature says:

"We've designed it so that Flash graphics can be used for each tile layer, marker and info window - opening up possibilities like dynamic shading, shadowing, animation, and video. When the user zooms the map, magnification changes happen smoothly and place names fade in. After the user drags a marker, it gently bounces to a halt."

You can see a demo of how one company used the API at Mike's blog post, taking users on a video tour of mapped locations, from San Francisco to Australia, with several cities in between.

This comes on the heels of another announced feature Google made earlier this week: the ability for users to easily access videos (including YouTube videos), photos, and maps created by individuals around the world in Google Maps. Once you've searched for and found an address in Maps, all you do is click the "Explore this area" link at the top-left and you'll encounter all kinds of photos and videos associated with this area. I did a search for Berkeley and this is what popped up.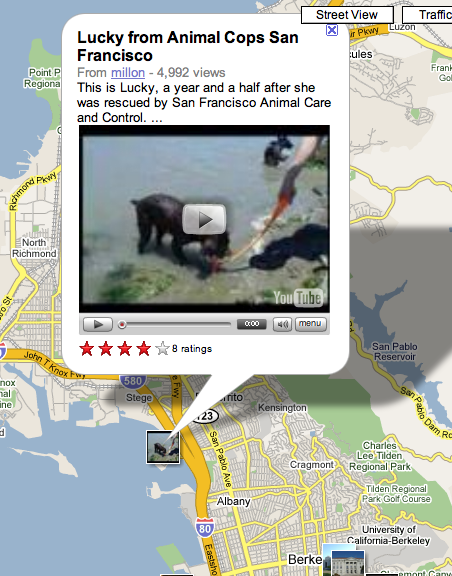 I biked into work today from my home in Oakland and took some new roads that were peaceful and perfect for a morning ride. Next time I'll bring along a camera and map parts of the ride.