Google any word or phrase in any Apple application.
Right-click (or Control-click if you don't have a two-button mouse) on a word in any Apple app (you don't have to select the word first—just right-click on it); a contextual menu appears.
One of the options is to "Search in Google." Choose that option, and Safari opens with the search results displayed. You can do this in Safari, your e-mail, TextEdit, and other apps.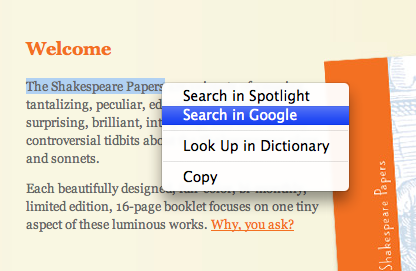 Check back here each day this week for more Mac OS X Leopard tips.
And for more on Mac OS X 10.5 Leopard, be sure to check out my books
Mac OS X 10.5 Leopard: Peachpit Learning Series,
The Little Mac Book, Leopard Edition,
and
Robin Williams Cool Mac Apps: Twelve apps for enhanced creativity and productivity, Adobe Reader, 3rd Edition.