Every month in our Photography newsletter, we feature the work of a new photographer who has contributed to our Photography Newsletter Flickr group. This month, we chose the photo Live Art, Downtown Los Angeles, Art Walk by Santa Clarita, California (Los Angeles County) based photographer Amparo Rios/R.E. Photography.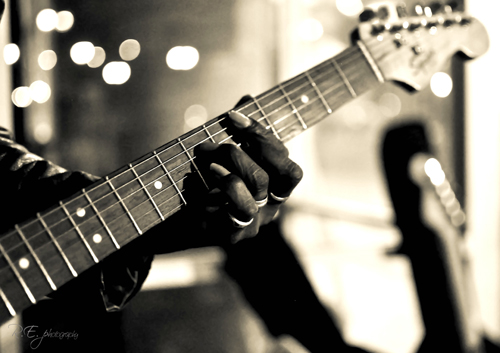 Peachpit: What inspired you to take this shot?

Amparo:
Art. I have a great admiration for all types of art. In my opinion, street musicians share their art in a very touching way, many times struggling to survive while sharing their music with the people who pass by them. I took this shot during the October Art Walk. It was late, a kind of cold night, and still this man was there performing for us, sharing his art with us.

I like to go to Art Walks as often as I can. Los Angeles offers an amazing Art Walk all over its historic downtown. The Downtown Art Walk, which takes place every second Thursday from Noon until 9 p.m. is a great example of Los Angeles at its best. Many galleries open their doors to the general public, and you find lots of art, food, and plenty of musicians playing outdoors. DTLA Art Walk is one of the best shows in town. It's free, and full of photo opportunities.

Peachpit: Camera settings?

Amparo:
I took this photo with my Nikon D5000, Nikon lens 35 mm f/1.8 at f/1.8, focal length 35 mm, ISO 3200.

Peachpit: Post-processing?

Amparo:
I edited this photo using Apple Aperture, and finished the editing using Picnik. I did the cropping in Aperture, then I removed the color and adjusted its contrast on Picnik. My post-processing for most of my photos is very simple. Mainly three steps: crop, then adjust contrast and exposure.

Peachpit: Matte or glossy?

Amparo:
Matte is my favorite. I like the clean finish without the distraction of the shiny gloss.

Peachpit: Who or what inspires you?

Amparo:
It is hard to name just one thing that inspires me. Mostly I shoot images as I find them, things that speak to me on some level. People, places, and things: that's what inspires me. I want my photos to say something, to tell a story, even a simple one-line story. I feel that my photos say a lot about me—about my likes, my daily life, and my passion for specific things.

Peachpit: Who are you? Where can we find you online?

Amparo:
Most of my work you can find on Flickr. The Flickr community is very important to me. I have learned so much by being part of it. I also have a website, which I was reluctant to get, but my daughter bought me a domain and pushed me to get it going. Now I love my website/photography blog; I just wish I had time to update it more often.

My website is: www.photographybyre.com

Flickr: http://www.flickr.com/photos/rios-enriquez/
Do you have a newsletter-worthy image to share? Post it in our new Photography Newsletter Flickr group, and you might just see it in the next issue!