Every month in our Photography newsletter, we feature the work of a new photographer who has contributed to our Photography Newsletter Flickr group. This month, we chose the photo Gangi (Sicily) by photographer Angelo Bosco, based in Catania, Italy.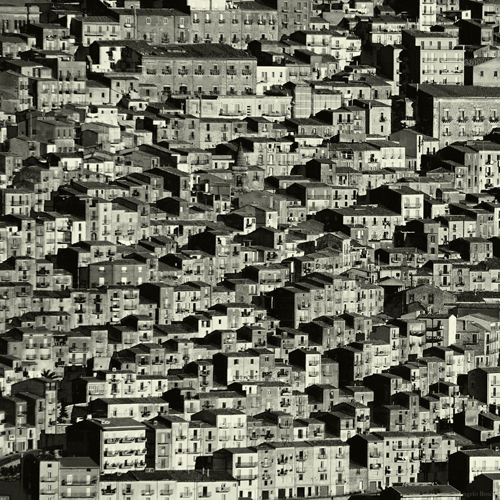 Peachpit: What inspired you to take this shot?
Angelo: I took this image in December 2010. I knew about this village perched on a hill and not far away from where I live (about 150km). I had never visited this place before. That day I was out for a photo walk to test my new zoom lens. I did not have a particular destination in mind, so I was driving in my car looking for some beautiful winter landscapes. The weather was good and after a rather long drive through the hills and valleys of the central part of Sicily, I was just about 20km from the village, so I decided to go there.
When approaching the village from a distance, you don't see the hill terrain but a big agglomerate of houses with Mt. Etna in the background. What I had in mind, however, was not to take the classic image with the volcano (well, I also took that image), but I wanted to try something different. By using a high-zoom factor I had the possibility to compress the lines and the planes of the perspective. I kept on driving until I was quite far from the village and I could see the entire hill. The view was very nice, the village was in front of the snow-covered volcano, and I took some pictures of that wonderful scene. Then I started experimenting with the zoom. I was looking for an image such that the viewer could only see the facades of the houses and without being distracted by any other element.
Peachpit: Camera settings?
Angelo: This image was taken at a far distance from the hill. I actually used the len's maximum focal length, which is 270mm. (I used the first version of Tamron 18-270.) It was quite windy and cold that day, so even if the lens is stabilized, I definitely needed a fast shutter speed. Fortunately, there was still plenty of light so I increased the ISO to 200 and set the aperture to 7.1. The camera was a Canon EOS400D. This setting gave me a shutter speed of 1/1000 sec., which was quite good to resist against the wind, the high zoom factor, and the vibrations caused by my hands. I did a few shots, photographing different portions of the village.
Peachpit: Post-processing?
Angelo: I'll tell you the full story. I applied a moderate unsharp masking to compensate for some softness of the lens at its maximum focal length. As you can see, the image is also cropped and I have chosen a square format. I usually try to compose the image at the time of capture, but this time it was not possible as I was not able to fill the frame with houses because of the distance. Some sky and trees entered in the final composition despite my efforts to exclude them. I could not change the shooting location because the one that I had chosen was the best for having the village in front of the lens rather than oblique to it. So the original photograph is slightly larger. I cropped in the central part, removing a portion of the sky and some trees in the lower part of the frame. In this way I ended up with an image of compact houses without other elements. The compression of planes renders the facades almost on a single plane, which is also an effect I wanted for this photograph.
The image was interesting in color but I wanted to focus attention on the geometry of the houses. I converted the picture to almost black and white—a sort of split-toned subtle dark brown and dirty white.
If I ever reshoot this image, I plan to use my new Canon 550D, which has 18MP resolution instead of the 10MP of the Canon EOS400D used for this shot. This will give me a higher resolution native crop to play with.
Peachpit: Matte or glossy?
Angelo: I prefer matte. I have a matte screen—though glossy screens look very nice and produce vibrant colors—I prefer to avoid reflections on the screen. I prefer avoiding even my own reflection caused by the light of the monitor striking me and bouncing back onto the screen. One downside of matte screens is that sometimes the antiglare treatment may be too intrusive. When it comes to photo prints, I do sometimes prefer glossy paper, for example in printed photo books.
Peachpit: Who or what inspires you?
Angelo: Among my favorite authors is David duChemin, not only for his photographic skills, but also because he is very good at writing and communicating feelings and emotions. I suggest anyone looking for inspiration and motivation to read his books. I also have books by Harold Davis, Peter Watson, Ian Cameron, David Nightingale, David Ward, Bryan Peterson. Martin Evening and Scott Kelby are great guides for learning Photoshop and photography techniques. Michael Freeman is a great author as well. I own his books about composition and exposure. I should also mention my online friends at Flickr, 500px and Google Plus. It is fun and constructive to share images and ideas with them. I also like going out for photo walks or traveling with friends who have a passion for photography. My real work as software engineer also inspires me when it comes to learning about image processing techniques and camera gear.
Peachpit: Who are you? Where can we find you online?
Angelo: I am a software engineer working in the field of image processing for digital cameras in a big semiconductor company. I have been working with digital images since I was at the university and even before the widespread use of digital cameras. Up until now I have had one compact camera that I bought almost ten years ago and two DSLRs. I only buy new gear when I need a particular lens or feature, which makes it worth the upgrade. I am also a huge music enthusiast and listen to many different genres. Of course, I also like traveling and I love mountain landscapes—Scotland and the Greek islands are among my favorite destinations. I particularly like Google Plus, because it puts you in contact with many excellent photographers willing to share and discuss about photography.

You can find me online at the following websites:
Flickr: http://www.flickr.com/photos/colourednotes/
500px: http://500px.com/angelobosco
GooglePlus: https://plus.google.com/103683410504713745816/posts (gplus.to/angelobosco)
Facebook: http://www.facebook.com/angelo.bosco
Twitter: http://twitter.com/#!/angelo_bosco
Linkedin: http://www.linkedin.com/in/angelobosco
Last.fm: http://www.last.fm/user/colourednotes

Thank you for having chosen one of my photographs for your newsletter. It has been a pleasure to share the image and my thoughts with you.

Do you have a newsletter-worthy image to share? Post it in our new Photography Newsletter Flickr group, and you might just see it in the next issue!