Every month in our Photography newsletter, we feature the work of a new photographer who has contributed to our Photography Newsletter Flickr group. This month, we chose this photo titled "Ride-out" by India-based photographer Arnab Biswas.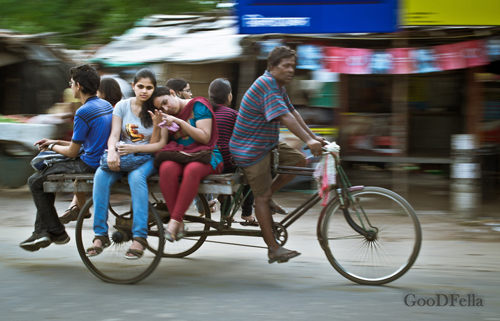 Peachpit: What inspired you to take this shot?
Arnab: I've been taking photographs and trying to understand photography for about four months now, and my ardent reading habit helps me a lot in the process. That is how I came across the technique of panning. So one day when I was standing at a crossroad at Anandapur, Kolkata, and was trying to perfect the technique for about two hours, this van rickshaw came along with some students from a local college. When I looked back at the shots I took, I spotted some photos that seemed technically better than this one, but this picture somehow seemed to emote a lot more to me than the others. I just like the way the girls are poised here in this picture.
Peachpit: Camera settings?
Arnab: This picture was taken with a D3100 with 18-55mm f/3.5-5.6 VR lens in manual mode with f/9.0, exposure 1/20 sec. and ISO 400 at 20mm.
Peachpit: Post-processing?
Arnab: Minimal post-processing on the RAW file was done in Adobe Lightroom 3.4. I just bumped up the exposure, clarity, contrast, and saturation a little bit and it was done.
Peachpit: Matte or glossy?
Arnab: I prefer matte usually, but I think it depends more on what the photograph demands.
Peachpit: Who or what inspires you?

Arnab: I'm mostly interested in travel and street photography that explores people, places, and culture. I find candid shots very intriguing. I'm greatly inspired by the likes of Cartier-Bresson, Elliot Erwitt, Steve McCurry, David Burnett, and Raghu Rai, to name a few who are pioneers of modern photography. I've also been greatly motivated by the book by David duChemin, Within the Frame: The Journey of Photographic Vision, which radically changed my way of thinking and approach towards photography. I'd also like to name some of my Flickr contacts like Subir Basak, Hari Menon, and Pronov Ghosh, who also make wonderful photographs. I'm rather exuberant when it comes to photography, and most of the shots that I come across every day make me wonder about the diverse visions that the photographers possess.
Peachpit: Who are you? Where can we find you online?

Arnab: I'm a student pursuing a masters in computer applications in Kolkata. I've recently developed a passion for photography, and I'm enjoying taking photographs, which can currently be seen on my Flickr page: http://www.flickr.com/photos/39979330@N04/. You can also follow me on Facebook: https://www.facebook.com/profile.php?id=100000176104908&sk=info.
Do you have a newsletter-worthy image to share? Post it in our Photography Newsletter Flickr group, and you might just see it in the next issue!