Every month in our Photography newsletter, we feature the work of a new photographer who has contributed to our Photography Newsletter Flickr group. This month, we chose the photo "Trey's Scrub" by Edmond, Oklahoma, photographer Chris Hultner.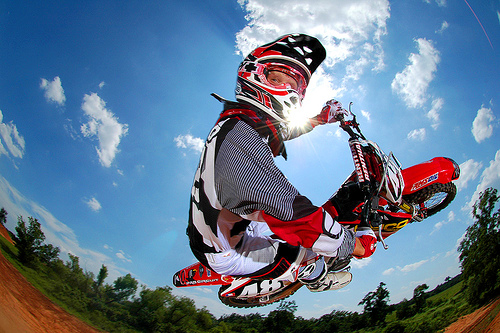 Peachpit: What inspired you to take this shot?
Chris:
Actually, I just wanted to see if I could pull it off. This was a shot that I had in my head for quite a while. The photo shoot itself was for a gear company catalog. The idea was to shoot a rider performing a racing move called a "scrub." That's where the rider throws his bike down flat right at the takeoff of a jump and stays as flat and as low as he can for the remainder of the jump. This allows the rider to hit the jump faster and get the wheels on the ground sooner.
While this move has been photographed many times, I had never seen it from the perspective that I had envisioned. My goal was to shoot the rider just as he left the ground and get as close as I could get with a fisheye. For this shot, I was sitting on the top of the jump as the rider flew by me at head-level, only a few feet away while traveling at 40 or 50 miles per hour.
Needless to say, there had to be a high level of trust between me and the rider. I had to trust that he would take the exact same path off the jump every time, and he had to trust that I wouldn't get in his path. The result of either one of us making a mistake would be disastrous for the both of us. The rider in the photo is the 2010 AMA 250cc National Champion, Trey Canard.
Peachpit: Camera settings?
Chris:
I shot this with a Nikon D70, because with the electronic shutter, I am able sync my flashes at very high shutter speeds. The lens was the Nikon 10.5 2.8 fisheye. The exposure was 1250th at f/9. I also used two Norman flashes, a 200B to the right of the camera and a 200c to the left to overpower the sun. Both were bare bulb and set to 100ws. My distance to the subject was, maybe, three feet.
Peachpit: Post-processing?
Chris:
Post-production was minimal. A little color correction and a boost to the saturation in Photoshop CS2.

Peachpit: Matte or glossy?

Chris:
Definitely glossy. I like photos that shine.
Peachpit: Who or what inspires you?
Chris:
When I was first starting out in photography, I was in awe of the work of Fran Kuhn. At that time (mid-1980s), he was the photographer at Dirt Bike magazine. He was one of the first photographers in motocross to use good, long glass and he was the first to shoot long-lens daylight flash, with the Norman 200B and the tele reflector. His images in those days were groundbreaking in the sport. He made it exciting to open a motocross magazine. It was my goal to create photos on the same level as him. Fran eventually moved on to another publishing company, and I was hired to take his place, except my position was expanded to staff shooter for all seven of the publishing company's titles.

Peachpit: Who are you? Where can we find you online?
Chris:
I'm a photographer and desktop publisher. For the last ten years, my wife Sherri and I have been publishing our own magazines. During the bulk of that time, we published a motocross magazine covering the amateur side of the sport. We are currently publishing a community magazine here in Edmond, OK. I also do a lot of freelance work. You can see my photos at
http://hultnerphotography.com/
as well as
http://www.flickr.com/photos/28341712@N08/
and
http://www.facebook.com/chrishultner
and
http://www.facebook.com/HultnerPhotography

Do you have a newsletter-worthy image to share? Post it in our new Photography Newsletter Flickr group, and you might just see it in the next issue!