Every month in our Photography newsletter, we feature the work of a new photographer who has contributed to our Photography Newsletter Flickr group. This month, we chose the photo Pemaquid Point Sunset 6763 by Maine-based photographer Cindy Farr-Weinfeld.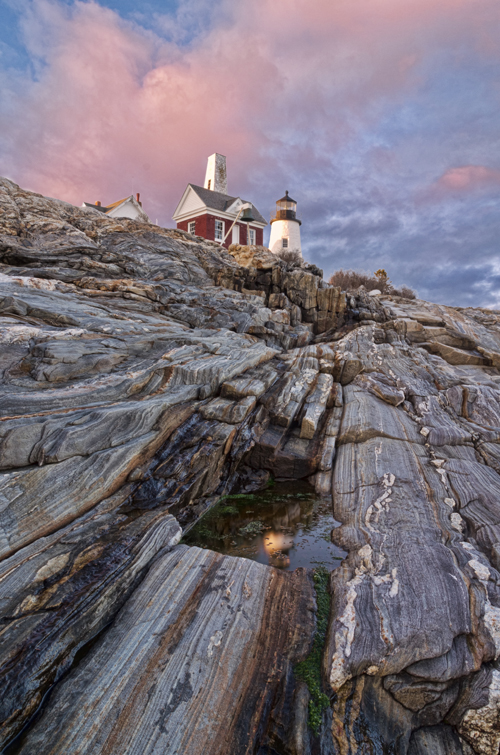 Peachpit: What inspired you to take this shot?
Cindy: Pemaquid Point is located in mid-coast Maine at the entrance to Muscongus Bay and John Bay. The rock formations surrounding the Point are unique and dramatic, and they make for amazing leading lines from any angle pointing towards or away from the tiny lighthouse at the top of the hill. As a result, I have wanted to get a good shot of this beautiful location for years. It's not always easy for me to get to the area during the golden hour—at either sunrise or sunset—as it is an hour and a half from my house. I have a couple of friends who live up that way, and we arranged to meet for dinner and a sunset photography session at the lighthouse a couple of weeks ago.
Peachpit: Camera settings?
Cindy: I took the shot in late March 2012, perched on the granite rocks looking up the hill using my favorite lens, the Pentax DA 12-24mm ultra-wide at its smallest aperture, f/22, allowing for incredible depth of field. I shot at 12mm to capture the huge amount of area being photographed. I know that many photographers take advantage of the very high ISO capability built into lots of the newer dSLRs, but I'm more of a traditionalist and a stickler for using as low an ISO as possible to minimize sensor noise. I didn't even have to de-noise, as a result. But the secret here is that this is an HDR comprised of three separate exposures to show the great dynamic range of the scene.
Peachpit: Post-processing?
Cindy: I opened my three shots in Adobe Camera RAW CS5 and adjusted each of them with these settings: Saturation, Clarity and Vibrancy all at +25. I also always go into the Lens Correction tab and check off the Defringe All Edges and the Enable Lens Profile Corrections boxes. I frequently play around with the White Balance tool (the little eyedropper at the top of ACR) to get the most accurate white balance setting for each picture.
Then, I opened up the three images using the latest version of Photomatix Pro and created an HDR image, saved them as a TIFF, and opened it back up in Photoshop CS5 to make some final adjustments. There, I used several of Nik's Color Efex Pro settings: Remove Color Cast and Polarization to bring out the detail in the sky and give a warmer color to the rocks. Finally, I used Topaz Adjust to bring out more detail in the rocks.
Peachpit: Matte or glossy?
Cindy: I prefer matte screens, but glossy printing. I use either Bayphoto or Nations Photo Lab's metallic finish paper to print because they have such a high-quality stock; their archival paper has a superb finish for landscapes.
Peachpit: Who or what inspires you?
Cindy: There are so many wonderful photographers today who inspire me. Some of my favorite photographers are Bryan Peterson, Jim Patterson, Joe McNally, Scott Kelby, Mike Shaw, Rick Sammon, Art Wolfe, Marc Adamus, Bill Gekas in Australia, and Moe Chen and John Paul Caponigro, right here in Maine. There are so many more, it would be a long list, I'm afraid. I love Joe McNally's and Scott Kelby's writing styles in particular. I have learned so much reading their congenial, conversational-style writing about photography. Of course, I'm also inspired artistically by all the different regions of Maine: the southern coast, where I live, Acadia National Park, western Maine and down east Maine in general, where I grew up.
Peachpit: Who are you? Where can we find you online?
Cindy: I'm a commercial/editorial photographer based in Portland, Maine. I regularly work on assignment for the Maine Office of Tourism, Visit Portland, and Portland magazine. My work has been published in Yankee magazine, Old House Journal, Popular Photography and Maine Food & Lifestyle magazine. Although I do all kinds of photography, my first true love is landscape.
You can find me online at the following sites:
CFW Photography: http://www.cfwphotography.com
Photo Quest (blog): http://www.cindysphotoquest.blogspot.com
Flickr: http://www.flickr.com/photos/cfwphotography/
Google+: https://plus.google.com/109234877522467673584/posts
Facebook: https://www.facebook.com/cfwphotography
Twitter: https://twitter.com/#!/cfwphotography
Linkedin: http://www.linkedin.com/in/cfwphotography
Fotoblur: http://www.fotoblur.com/people/cfwphotography
Do you have a newsletter-worthy image to share? Post it in our Photography Newsletter Flickr group, and you might just see it in the next issue!