Wanna get your photos seen by thousands of Peachpit's most passionate photographers? Starting this month, we'll be highlighting the work of one talented member of our Photography Newsletter Flickr group in our monthly Photography newsletter. This month, we chose a photo of the Akershus Fortress by Oslo-based photographer Eli Reinholdtsen, who, as you'll see from this photo, is passionate about shooting reflections, shadows, and silhouettes.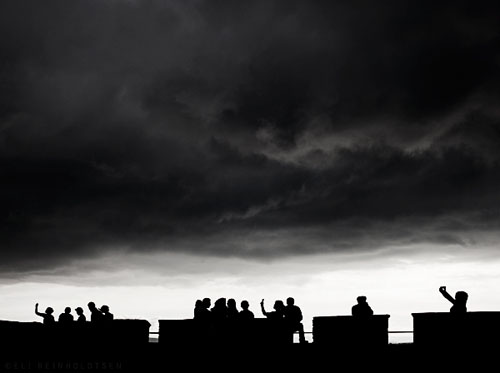 Peachpit: What inspired you to take the shot above?

Eli: The rain had been pouring down all day, but had ended when I walked home from work. And the weather was about to lighten up. After rain, I am usually on the lookout for "good" clouds with a lot of detail.

From the top of Akershus Fortress in Oslo there is a good view towards the sea and the setting sun.

A group of tourists collected at the viewpoint and I figured something good could come out of it so I waited. I was looking for some silhouettes that would stand out against the sky so I just kept shooting. When three people lifted their cameras simultaneously I knew I'd get the shot I wanted.

Peachpit: Camera settings?

Eli: Aperture priority f/4, 1/1250, ISO 100. (Ideally, I would have wanted a higher f-stop). I underexposed by 1/3. When shooting silhouettes, I make sure I have the highlights warning function on—I often underexpose to -1 or -2 to make sure I get detail in the sky so that it is not burnt out. It does not matter if the silhouettes are burnt out, they are dark anyway.

Peachpit: Post processing?

Eli: A little dodge and burn on the sky. Levels and curves. A b/w gradient map.

Peachpit: Matte or glossy?

Eli: Premium Lustre or glossy.

Peachpit: Who or what inspires you?

Eli:

Who: I'm inspired by Lisette Model, Cartier-Bresson, and David duChemin, among others.

What: Street photography and great light! I love walking around town with the camera just to see what happens. I love shooting reflections, silhouettes, and shadows. Also, Liz Palm is an inspiration. Her images are the reason I joined the Oslo camera club.

Peachpit: Who are you? Where can we find you online?

Eli: I live in Oslo, Norway. I spend a lot of time in the UK as my partner, Simon, works there now. I work with implementing ERP systems in large organizations where logistics and plant maintenance is my area of expertise. Online, my work can be found at elireinholdtsen.com and Flickr, plus craftandvision.com.
Do you have a newsletter-worthy image to share? Post it in our new Photography Newsletter Flickr group, and you might just see it in the next issue of our Photography newsletter!