Every month in our Photography newsletter, we feature the work of a new photographer who has contributed to our Photography newsletter Flickr group. This month, we chose the image "Soldiers' Huts," by Pennsylvania-based photographer Jerry W. Fuqua.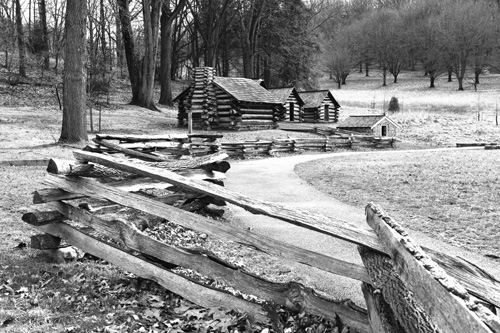 Peachpit: What inspired you to take this shot?
Jerry: There is a quote that fits my style of shooting, "My pictures are never pre-visualized or planned. I feel strongly that pictures must come from contact with things at the time of taking. At such times, I rely on intuitive, perceptual responses to guide me …" —Wynn Bullock.

I had been shooting throughout Valley Forge National Historic Park and was on my way back to my car. As I walked by the huts, the way the fence line drew me toward the huts grabbed me—so I shot it
Peachpit: Camera settings?
Jerry: Soldiers' Huts – Valley Forge, was made with a Canon 7D and a Canon 24-105mm lens. Exposure was f/8, 1/250 sec., and ISO 200.
Peachpit: Post-processing?
Jerry: Post-processing of the raw file was done in Lightroom 3.6. I tweaked the exposure, clarity, and tone curve, and then sharpened the image before converting it to black and white using Topaz B&W Effects.
Peachpit: Matte or glossy?
Jerry: It depends on the image. I prefer glossy for black and white. I like the richer blacks that glossy gives. I guess that goes back to my film days. Generally, I print color on matte paper.
Peachpit: Who or what inspires you?
Jerry: I am always inspired by things in the world—both man-made and nature. Photographers who inspire me include the Resettlement Administration photographers such as Dorothea Lange and Walker Evans. Also Ansel Adams, Harry Callahan, and more current photographers such as Rick Sammons and photographer/authors David duChemin and Scott Kelby. I find great inspiration in the online community on flickr.
Peachpit: Who are you? Where can we find you online?
Jerry: I'm a nature/documentary photographer who makes his home in Bucks County, Pennsylvania, with my wife, three dogs, and two cats. I believe, as Richard Bach said, "Argue for your limitations, and sure enough they're yours." I photograph what is interesting to me. The last few years I've been documenting old taverns, mills, and other 18th and 19th century buildings before they fall to "progress."

I started photographing in 1965 with a Kodak 35, 35mm rangefinder camera, circa 1940. I bought it at a pawn shop in Sioux Falls, South Dakota. I've worked as a photographer and darkroom tech for a newspaper and did children's portraits. In the early 1980s my work was shown in a number of juried photo shows. By the late 1980s I was busy making a living and I did little photography. I retired in 2007 and started shooting again.
You can find me at http://www.jwfuqua-photography.com, on Flickr at http://www.flickr.com/photos/jwfuqua, on Google+ using http://gplus.to/jwfuqua, and on Facebook at http://facebook.com/jwfuqua.

Do you have a newsletter-worthy image to share? Post it in our Photography Newsletter Flickr group, and you might just see it in the next issue!