Every month in our Photography newsletter, we feature the work of a new photographer who has contributed to our Photography Newsletter Flickr group. This month, we chose the photo driftwood, Placentia, Newfoundland, 2011 by Saint-Hyacinthe, Quebec-based photographer Keith Walsh.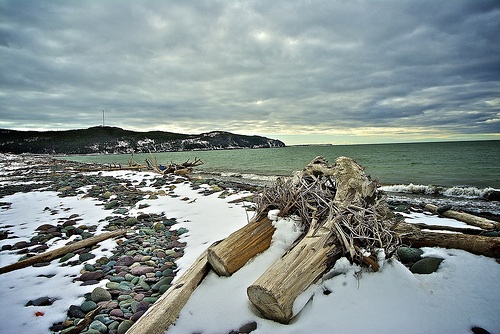 Peachpit: What inspired you to take this shot?

Keith: I grew up in this area and I've walked this stretch of coastline more times than I can count. I've always been struck by the quality of light on the coast and the great photographic potential of this rugged region. But my past attempts to capture that potential with a camera have always resulted in rather dull photos, nothing like actually being there.

When I had a chance to visit back in March and April, I was determined to change that. I really had to approach the familiar with a beginner's mind—not the easiest thing to do, for sure. In this particular case, I needed something to anchor the beach shot I wanted to get. It didn't take me long to focus on this piece of driftwood—placing it in the foreground really worked out well. That, and the dark, moody clouds overhead.

The driftwood itself was quite an interesting object. I imagine this tree came from somewhere along the coast and waves and erosion caused it to tumble into the sea where it drifted for who knows how long before landing on the beach. I have no idea if the top had been cut before arriving here or after. Another mystery! Anyway, the resulting weathering had given the driftwood incredible texture and shape. I knew it would make a great focal point for my photo. Combine that with the round beach rocks, colorful seascape, and volatile sky, and everything really came together.


Peachpit: Camera settings?

Keith: Nikon D200 at 1/160, F16, ISO 100 with a Sigma 15-30 mm lens set at 15 mm.


Peachpit: Post-processing?

Keith: I really don't do all that much in post. My style really is characterized by high contrast and extreme depth of field. I'm a great believer in getting the framing and exposure right in the camera. I transfer my RAW files into Apple Aperture 3, where I basically adjust the sharpness, contrast, highlights, and shadows to taste and that's about it. I don't do any HDR or use any layering. With a well-balanced exposure in the camera, I usually have all of the range of light I need to get what I want.


Peachpit: Matte or glossy?

Keith: It depends very much on the photo and where it will be displayed. I naturally gravitate toward glossy, but will use matte where it makes sense.


Peachpit: Who or what inspires you?

Keith: Well, so many things, really. I'm heavily influenced by the classic photographers. Ansel Adams, not surprisingly, has always been a huge influence since I gravitate towards landscape and nature photography. The clarity, sharpness, tones, and composition of Adams's work always impresses me. Among modern photographers, I really like Phillip Colla and Bruce Percy.

My scientific background also colors my approach to photography. I can't help but look at a natural scene and think not just about the aesthetics, but also about the biological and physical processes at work. I guess I'm inspired by nature itself. I find that there is a virtually endless variety of subjects, scenes, colors, and light. It's not difficult to be inspired by that.


Peachpit: Who are you? Where can we find you online?

Keith: I'm a biologist by profession, but photography is almost as big a passion. Although my work keeps me pretty busy, I try to get as much time as I can for photography. Unfortunately, I don't have much time to devote to really promoting my photos. I've still managed to get several images published over the past few years, but that has been the result of being asked and not from any special effort on my part. I really put most of my effort into keeping my flickr account (www.flickr.com/photonguy2009) up to date with my latest work. That's the place to go if you want to see what I'm up to, photographically speaking.


Do you have a newsletter-worthy image to share? Post it in our new Photography Newsletter Flickr group, and you might just see it in the next issue!