Every month in our Photography newsletter, we feature the work of a new photographer who has contributed to our Photography Newsletter Flickr group. This month, we chose the photo "Sunburst, Harbor, Ship." by Pasadena-based photographer Lance Cunningham.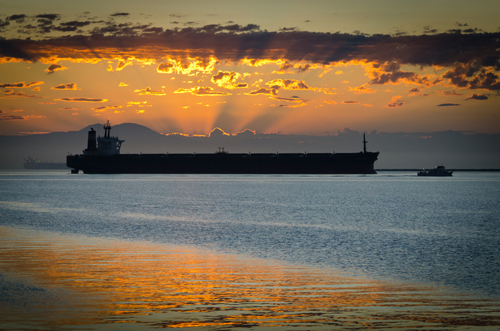 Peachpit: What inspired you to take this shot?
Lance: I have a very unique job working in The Port of Los Angeles as a crane mechanic on the third shift (2:00 am to 8:00 am). This allows me to witness almost every sunrise throughout the year. Over my ten plus years working on the third shift, I am constantly amazed by the unbelievable beauty of sunrises. No two are ever the same, and when I think I have seen the most perfect, most beautiful sunrise or sunset, another one comes along that knocks my socks off.
I remember watching this sunrise develop over the outer Port of Long Beach and had a gut feeling that something really nice was going to unfold that morning. There were some really low clouds on the horizon and a few higher clouds, which I thought might come alive when the sun came up. One of the photographers who inspires me is G. Dan Mitchell, who wrote a great article, A Photograph Exposed: A Tale Of Light, which chronicles a sunset over Yosemite. This article taught me about the unpredictability of sunrises and sunsets and to be patient and wait for the light to happen.
Unfortunately, I did not have the luxury of time on this particular morning.
As I left work, the sun had just broken over the clouds with this amazing starburst of light rays. Because I was in a rush, I almost didn't stop, but the photographer in me took over and I hurried down to the water's edge. I was in the perfect spot with the sunburst centered over the ship and a few other ships positioned in the background. I got down low near the water and used it and the reflection as my foreground elements. As I was taking some test shots to fine tune my exposure and composition, a small fishing boat started to cross my frame from left to right. I liked how I could use this small boat to improve dimension, showing perspective for these big ships and adding motion to the scene. I waited until the fishing boat was off the bow of the ship to provide balance and symmetry to the overall composition.
Peachpit: Camera settings?
Lance: The image was made with a Nikon D7000 and a Nikkor AF-S 16-85mm lens. My settings were: f/13, 1/160 sec., ISO 400.
Peachpit: Post-processing?
Lance: I processed the raw file in Adobe Photoshop Lightroom 3.6. I used a graduated ND filter in Lightroom to darken the clouds, adding some structure to them, and to increase saturation of the sunburst rays. Global adjustments were made to increase contrast, vibrance, saturation, and clarity. I increased the blacks to improve the silhouetting of the main ship. Lastly, I did a little noise reduction and sharpening.
Peachpit: Matte or glossy?
Lance: I prefer glossy screens as well as glossy color prints. I usually prefer matte for black-and-white prints.
Peachpit: Who or what inspires you?
Lance: What inspired me to start taking a lot of pictures was the birth of my first child. Like my dad, I wanted to have pictures to chronicle our life as a family. After becoming comfortable with a camera, my inspiration to take up photography as a hobby came from the desire to capture the tremendous beauty I see every day in the Port of Los Angeles. Photographing in and around the Port of Los Angeles offers a wide variety of subjects—both large (ships, cranes, containers, and bridges) and small (birds, seals, and dolphins) during the day and night. The photography community on the Internet has also been a big inspiration for me as well. The resources to learn about photography and the forums to share your work have been invaluable to me. I cannot imagine a better time to be getting into photography than the present.
Peachpit: Who are you? Where can we find you online?
Lance: I graduated from the California Maritime Academy in Engineering and have worked as a crane mechanic in the ports of Los Angeles and Long Beach for the past 17 years. I have been pursuing photography as a hobby for the past two years. I am also a husband and the father of a son and a daughter.
You can see more of my photographs on Flickr.
You can follow me on Twitter.
I would like to thank Peachpit for choosing my photograph for the Photography Newsletter and allowing me to share some of my thoughts.


Do you have a newsletter-worthy image to share? Post it in our Photography Newsletter Flickr group, and you might just see it in the next issue!