Every month in our Photography newsletter, we feature the work of a new photographer who has contributed to our Photography Newsletter Flickr group. This month, we chose the photo Fedora by New Jersey-based photographer Mark Krajnak.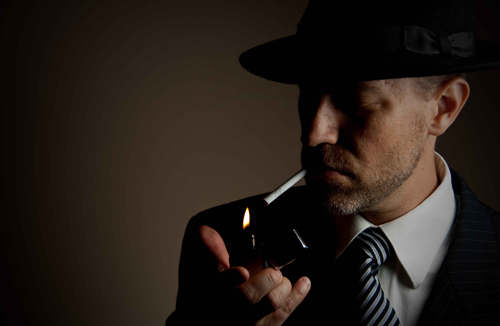 Peachpit: What inspired you to take this shot?

Mark: I've been shooting images in the noir genre for a couple of years now. I'm a big fan of old film noir movies like The Maltese Falcon, and I'm especially a fan of the lighting used to create the mood of those films.

Peachpit: Camera settings?

Mark: I shoot with a Canon 50D. My 17–85mm lens was on for this one, set at 50mm, f/5.6, ISO 160 with –1 EV on Aperture Priority mode. This was a two-light setup. I had a basic gooseneck desk lamp on the floor behind Mr. Fedora, pointed up and bounced against the wall as a bit of separation light. Main light was a Canon 430 EX Speedlite set to Manual mode at 1/8th power and shot through a Photoflex LiteDome XS Softbox.

Peachpit: Post-processing?

Mark: Not much post-processing on this one, actually. In Canon Camera Raw 5.5, I warmed it up a bit (I have my settings usually set cooler) with the temperature balance, then just brought up the Blacks and the Clarity a touch.

Peachpit: Matte or glossy?

Mark: Glossy.

Peachpit: Who or what inspires you?

Mark: Photographically, my biggest inspiration, and mentor, has got to be Joe McNally, whom I've known now for about 10 years. He provides invaluable guidance and friendship. Jay Maisel also inspires me, especially when I'm in a street photography mood. There are a number of photographer friends who I've met through Flickr and Twitter who also inspire me to keep me trying to improve and learn. In general, though, the old movies from the '40s and '50s are huge inspiration, especially for my noir shots. The music of Bruce Springsteen, the stories he tells. Travel is also a source of inspiration, though I do think you can take great photos right outside your front door.

Peachpit: Who are you? Where can we find you online?

Mark: I live in a beautiful part of central New Jersey with my wife, Leslie; two children, Olivia (3 1/2) and Chase (5 months); and two dogs. My background is in journalism and communications, and I work in the corporate communications department of Johnson & Johnson, overseeing the company website as well as the company annual report and other such projects.

You can find me online here:
Portfolios: jerseystylephotography.zenfolio.com

Blog: jerseystylephotography.wordpress.com
Twitter: @MarkKrajnak

Do you have a newsletter-worthy image to share? Post it in our new Photography Newsletter Flickr group, and you might just see it in the next issue!