Every month in our Photography newsletter, we feature the work of a new photographer who has contributed to our Photography Newsletter Flickr group. This month, we chose the photo "Sunset Paddle" by UK-based photographer Sandra Tinari.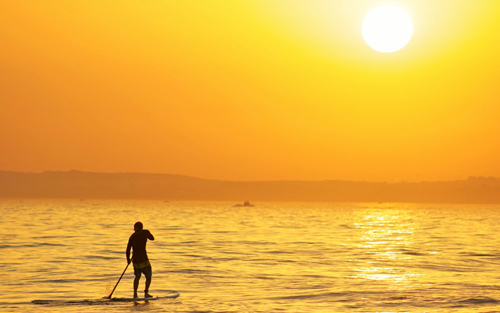 Peachpit: This shot just embodies SUMMER! Where were you and what inspired you to snap this pic?
It was a steaming summer the year this was photographed! The shot was taken on Portugal's south coast, in the Algarve's Vale do Lobo. My husband and a friend were out on stand-up paddleboards at sunset. I'm always attracted to soft-light and muted, pastel-hued photography; the Algarve has amazingly colour-filled sunsets, so I knew there was an opportunity for a shot when they were unpacking the boards.
Peachpit: We're loving the warm sunset glow. Any post-processing? What were the camera settings?
Thank you! There were only minor tweaks to slightly boost saturation and contrast a touch. I'm not great at digital post-processing, so I try to capture the image in my mind's eye in-camera. I waited until the sun was low on the horizon so the photo would benefit from the soft oranges and pinks. The only problem was trying to get my "models" into position! They preferred riding the waves rather than paddling into the sun's rays . . . they weren't being too cooperative!
Peachpit: How did you get started in photography?
I studied photojournalism at Curtin University in Australia and worked in newspapers and magazines there before moving to London. It was in the days before digital photography (just!), so all our training was hands-on—I loved playing around in the darkroom. The newsroom was a great training ground, too. Deadlines were tight and rolls of film were expensive, so it was important to get the right shot as quickly as possible, while at the same time, only shooting a small number of frames.
Peachpit: Who or what inspires you?
My husband! But, from a photography point of view, the painterly dark-muted world of Bill Henson is a stunning lesson in the use and manipulation of light. Rebekka Guðleifsdóttir's ethereal outdoor self-portraits from her tour of Iceland are ever-inspiring. Just beautiful. I can also never go past Tim Walker's crazy, colourful worlds for Vogue. His work always makes me smile.
Peachpit: Any sage words of advice for someone trying to get into photography?
Focus on what you love, develop your own unique style, and believe in yourself. Photography can be a school of hard knocks, but it is worth it! I also devour books and magazines to expand my horizons, creatively and technically. My favourite books are Within the Frame by David duChemin and National Geographic's Ultimate Field Guide to Photography, which I bought while at university in the early 1990s. It's been passed on to so many friends, but sadly the dog-eared tome was lost when my house flooded last year. Finding a photography friend is also a great idea. My brother-in-law, Keiron Throssell, sometimes seems like a world away in Australia, but his ideas, advice, and constant passion for photography are always greatly appreciated! Check him out on Flickr here!
Peachpit: Tell us a little bit about yourself. Where can we find you online?
I'm a bit of a sea gypsy, traveling and surfing the world as much as I can, while working as a travel and lifestyle journalist/photographer to fund the journey. You can find me on Tumblr at mohken.tumblr.com, at sandratinari.com and Flickr, and via @MohkenMedia on Twitter and Instagram.
Do you have a newsletter-worthy image to share? Post it in our Photography Newsletter Flickr group, and you might just see it in the next issue!