Every month in our Photography newsletter, we feature the work of a new photographer who has contributed to our Photography Newsletter Flickr group. This month, we chose the photo Raindrops 2 by San Francisco-based photographer Shando Darby.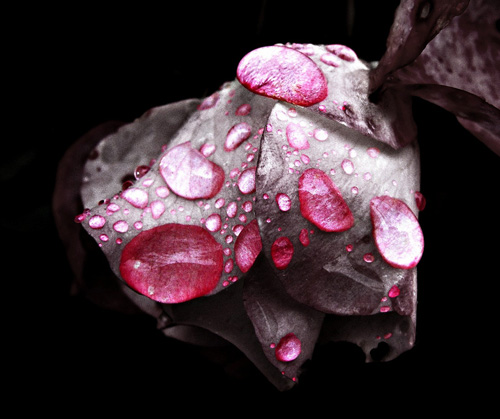 Peachpit: What inspired you to take this shot?

Shando: When I began to take photography seriously, I had been taking photos of flowers for awhile. They are my first—and one of my favorite—subjects. I live in San Francisco, California where the plant life is abundant and year round. There are so many different types of flowers here that it's almost too much to comprehend sometimes.

This particular shot was taken on December 21, 2009 when it had been raining. Of course, one of the best times to take photos of flowers is when the sky is overcast and the flowers have water droplets on them. They can be so breathtaking. It makes me appreciate the small things in life and the beauty that surrounds us all—you just have to look for it.

Peachpit: Camera settings?

Shando: This photo was taken with a Sony Cybershot DSC-H20. The f-stop was f/3.5. Exposure time was 1/400 sec; ISO 100. Focal length was 6 mm. Max aperture was 3.625 and metering mode was on spot—no flash was used. The contrast was "hard;" exposure program was "normal;" saturation was "normal;" sharpness was "hard;" and white balance was on manual.

Peachpit: Post-processing?

Shando: All of the post processing was done on a website called Picnik. If you haven't checked out this site, which was recently bought by Google, then you haven't seen how easy post processing can get!

First, I reverted the color photo to black and white. Then, I eased the colors back in to give the image the soft pink/grey tone that you see on the flower. Next, using Picnik's Tint tool and reversing the colors, I went over each raindrop and painted in the original color with my mouse. Think of coloring with crayons, but using a mouse. I then made a few contrast and saturation adjustments to heighten the effect.

Peachpit: Matte or glossy?

Shando: For the most part, I use glossy since I rely on the large contrast of the colors in my photos. I want to begin experimenting with matte in the very near future for a more artistic feel.

Peachpit: Who or what inspires you?

Shando: I am inspired by so many people, especially my partner, Travis, who supports me in my pursuit of a photography career.

Current photographers that inspire me include Thomas Hawk, Eric Neilson, and Gabriel Gastelum.

And finally, the beauty, insanity, peace, and excitement that is San Francisco continues to inspire me every day!

Peachpit: Who are you? Where can we find you online?

Shando: My main job at this time is bartending at two bars in San Francisco: Trax and 440 Castro. I am working on becoming a full-time photographer, but easing my way into it so that I don't make huge mistakes in taking jobs I'm not qualified for or getting in over my head on the business end of photography. I have done portrait settings, real estate photography, and small event photography.

I love showing my work to the world. You can find me at the following places:

Main website: http://shandopics.paradepro.com/

Facebook: http://www.facebook.com/pages/Shandopics/346413729661

Twitter: http://twitter.com/#!/shandopics

Flickr: http://www.flickr.com/photos/shandopics/

I also sell my photos on Reb Bubble: http://www.redbubble.com/people/shandopics

Do you have a newsletter-worthy image to share? Post it in our new Photography Newsletter Flickr group, and you might just see it in the next issue!