2011 has been a very fun year for us, especially for those of us who think it's fun to spend most of our time on a Mac writing about Mac operating systems (Lion, OS X 10.7, to be specific) and cool, amazing software (Adobe's Photoshop, InDesign, and Illustrator). In fact, by that criteria, 2011 was just about the most fun we've ever had.
In addition to two Lion books, we expanded the Non-Designer collection of books to include three books about our favorite Adobe software applications: The Non-Designer's Photoshop Book, The Non-Designer's Illustrator Book, and The Non-Designer's InDesign Book. These are the three applications we use most often on a daily basis, especially when working on real-world projects for ourselves or clients. That's probably also true for most professional graphic designers.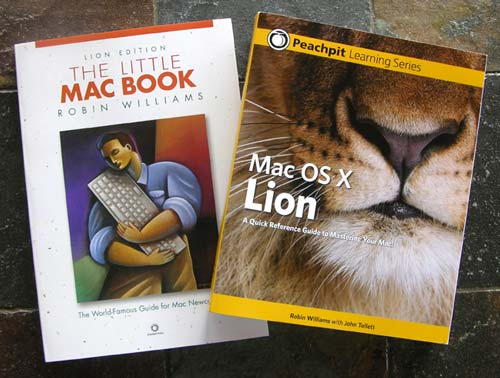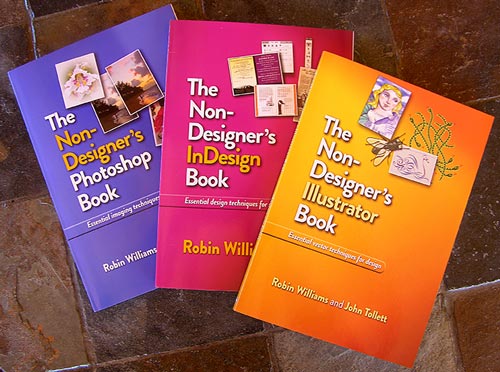 Many of the designers (and non-designers) we know are proficient in at least one of these software applications, such as InDesign, but haven't had the confidence or time to dive head first into learning the others, such as Photoshop or Illustrator. Photographers (or snapshot mavens) often know their way around Photoshop, but are reluctant to take on InDesign, even though it would be enormously useful for many of their projects. And of course, Illustrator is an amazing tool for both illustrators and non-illustrator designer types.
Each book is meant to be an overview and an easy way to get started with each of the Adobe applications. Task-oriented content covers information and techniques we thought would be the most useful to most non-designers (and designers).
A note from John:
That would be enough fun to satisfy most authors, but Robin has an unusually high fun-threshold. She's currently making final edits to the revised, paperback edition of her controversial and influential book Sweet Swan of Avon: Did A Woman Write Shakespeare? (shown below). The paperback will be available on Amazon.com soon after this blog posting. I'll provide a link to it in our next blog, a couple of weeks from now.
As you could probably guess, all six books we created this year were designed and produced using InDesign, Photoshop, and Illustrator. If you're not familiar with all three applications, chances are you're missing some really cool creative and productive opportunities.