Yes we did! But how did we do it? How did Barack Obama go from relative obscurity to president of the United States? Find out all the juicy, behind-the-scenes details in a live Twitterview with New Media strategist and former Obama campaign volunteer Rahaf Harfoush!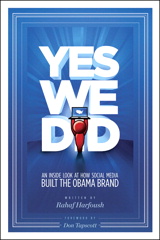 Author of the brand new book,
Yes We Did! An inside look at how social media built the Obama brand
,
Rahaf Harfoush will answer your most pressing questions in easy-to-digest 140-character bites via
Twitter
! All the excitement begins Thursday, June 25, at 11 am PST.
To tune in, just follow
@Peachpit
and
@rahafharfoush
. You can even set up a
Tweetdeck
group with just those 2 tweeps and follow along or search for this hashtag: #yeswedid.
So if you've had a hard time getting Obama on the phone these days to answer your questions about his social media campaign, here's your chance to get the next best thing. Oh, and you could even get a free book to boot! Send your questions to
@Peachpit
or post them as comments to this blog with your Twitter name. If your question is chosen, you could win a free copy of
Yes We Did!
We'll also give you a shout-out during the Twitterview. Not too shabby. In one sweet afternoon, you'll get fame, fortune, and the answers to your deepest social media questions.