As you know, better photographs are not the result of better camera equipment. Rather, to create stunning photographs you need to learn to see.

Like most worthwhile endeavors, becoming good at the art and craft of photography takes time. Yet, one of the quickest ways to improve your photography is to train yourself to see in new ways.

For starters, I've found that simply bringing my camera with me forces me to look at the world differently. So start to carry around a camera.

Next, before you take the photo, think about how you can clarify what you want to communicate by using a unique perspective or a particular type of composition. Let me explain.

I have deep respect for wedding photographers because they have to be able to capture and create good photographs with many different variables to consider. In other words, they have to think on their feet and think quickly. There are no second takes, redos, or reshoots. Well, I am not a wedding photographer, but I have had the privilege of photographing a few weddings for friends, as I did a few weeks ago.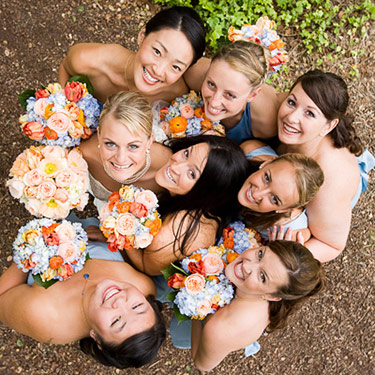 At one point during that particular wedding, I was walking with the bride and her bridesmaids and they looked wonderful. We had taken some "regular" photographs, so I was interested in getting a bit creative when I noticed a tree. I quickly climbed up the tree and snapped off a few frames to capture the photo seen above. Now, it isn't the most amazing photograph in the world, yet it was fun and it engaged the group. The bride and her bridesmaids smiled differently and the perspective is unique.

So as you seek to create more compelling photographs, look for new perspectives, new vantage points, new angles. Try to do more than simply stand and take photographs—move your feet, or maybe even climb a tree!

A few moments later, I was walking with the bride and groom. Their affection for each other was so natural, simple, and unstressful. It's easy to get stressed out on your wedding day, but not for this couple. Their love was like a shelter. So as we walked, I was looking for some way to communicate this. When they walked under the rose arch, I asked them to stop and then kiss. I used a relatively tight composition (cropping out the distracting background) and made sure the roses were visible above in order to create the image of the couple.



In sum, my hope for you is that you begin to experiment to learn how to see and how to create more interesting, communicative, and engaging photographs.

Cheers,
Chris Orwig