One of the significant improvements in Lightroom 2.0 is that it's now possible to work in 64-bit mode. Taking advantage of this power is the key to boosting your performance, whether you use Windows or a Mac.

If your machine is an Intel-based computer with dual- or quad-processing capacity and your OS (Mac OS X 10.5 Leopard, 64-bit Windows Vista) supports the 64-bit mode, this application will certainly give you a speed boost.

Lightroom in 64-bit mode can now work with memory larger than the obligatory 4GB-RAM limit on 32-bit applications. This new mode offers a performance bump, which will increase the speed of processing large image files using processor-intensive operations.
Mac users will need to have an Intel-based computer and Mac OS X 10.5 (Leopard). By default, Lightroom for Mac is installed with 32-bit mode enabled, but it's easily switched to 64-bit mode via the "Get Info" command.
On an Intel-based Mac system running Mac OS X 10.5, navigate to the Applications folder and highlight the Lightroom 2.0 application. Then in the Finder, go to the File menu and select Get Info. When the information box appears, turn off the Open in 32 Bit Mode option.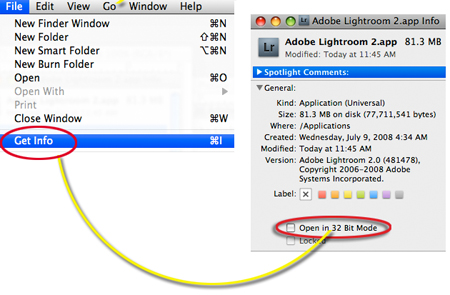 It's slightly more complex if you're a Windows user in that you must be using the 64-bit version of Vista to use the 64-bit features of Lightroom 2.

Check back here each day this week for more Lightroom tips.
And for more on Lightroom, be sure to check out my book Lessons in DSLR Workflow with Lightroom and Photoshop.