Staying up to date with your favorite websites and blogs can be a real chore, and a major productivity drain. If only there was a way to quickly get the latest unread headlines from top sites in one place, at any time, on any devices. There is. Available for iPad, iPhone, and Mac is Reeder, the popular Google Reader client.
Google Reader is a free service that watches newsfeeds from your favorite websites and blogs, and highlights new content through a single web interface. Simply log in and add subscriptions to any of the sites you visit frequently. Then, return anytime to see what's new. Google Reader pulls the latest feeds automatically and keeps track of what you've read too, so you can easily set it to skip over any previously read content.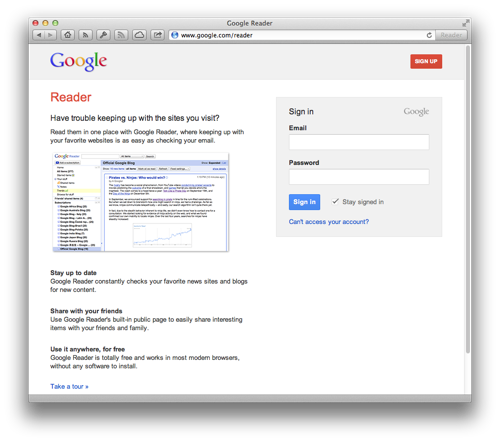 The Google Reader Website
While Google Reader is super useful on its own, Reeder takes it up a notch. Reeder is a native app for iOS and Mac, which gives you quick access to your Google Reader feeds. Through slick user interfaces, it lets you scan through your subscriptions, read the latest news, mark stories read/unread, favorite posts, sort by date/feed, share content with others, and more. Its minimalist design and intuitive navigation gestures make Reeder super easy for anyone to learn and use. And, with Reeder available for multiple devices, you can pick up your iPad, iPhone, or Mac, whichever is nearby, and instantly be in sync with the latest unread headlines. I use Reeder daily to keep up to date with the latest tech happenings, local news, friend and family websites, and much more.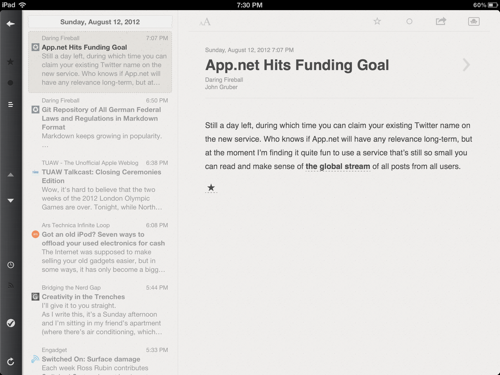 Reeder for iPad
To get started with Reeder, just follow these five simple steps:
Step 1: Visit www.google.com/reader and sign up for a Google account if you don't already have one.
Step 2: Download Reeder ($4.99 Mac App Store), Reeder for iPhone ( $2.99 App Store) and/or Reeder for iPad ($4.99 App Store).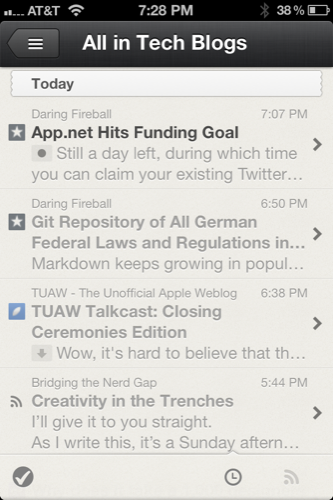 Reeder for iPhone
Step 3: Launch your Reeder app(s) and log into your Google Reader account.
Step 4: Subscribe to your favorite sites and blogs directly in Reeder (as of the time of this post, the iPad app doesn't let you add subscriptions yet), or at the Google Reader website.
Step 5: Use Reeder to get instant access to the latest news from all of your favorite sites, anywhere and anytime.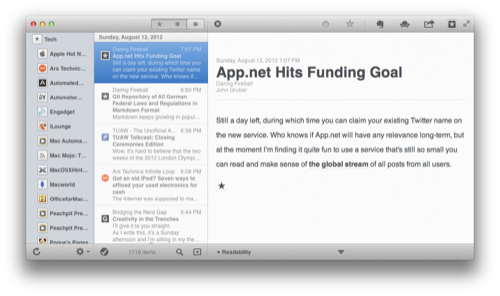 Reeder for Mac