I used to love looking at my friends' photos. It was always so pleasurable to go through the pile as I heard some fascinating tale wrapped around each one. These days since the world has gone digital, everyone only takes about five seconds to show me snapshots on their new iPhones. Practically no one ever hands me a printed photo anymore.
I feel the same way about photos that I do about books: there's no substitute for having something physical in your hands. So today at Macworld Expo I was happy to discover a solution to all that tactile sensation I've been missing lately: Blurb, an online service that helps you create actual printed books with your own content.
Imagine this: You play around with a pile of your photos onscreen and arrange them into pretty little book pages, you type witty blurbs that tell the story of each photo, and then you hit the upload button. Slam, you're done.
Now. Fast forward a week and you're looking at that same content again, but this time you're holding an actual book in your hands. A hefty, true-to-life, hardcover, professional-quality REAL BOOK filled with your photos, your text, your life. You can feel it, touch it, and hey, this time you'll be able to hear it when you slam it shut.

If you want to touch its lovely book samples in person, visit Blurb at its booth this week or drop by their special Macworld soiree tonight (Thursday, January 8) at Thirsty Bear.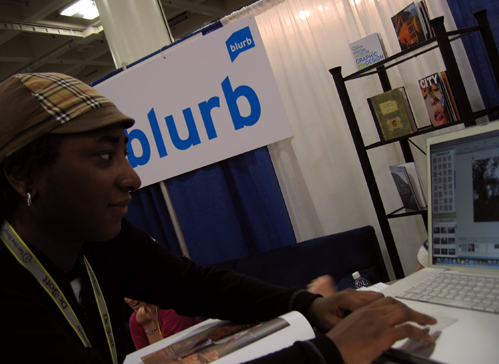 Blurb's slogan is: Real books. Made by You. What could be better than that?