Rebecca Freed devolves, er, reports from the Microsoft-sponsored Macworld Expo Devo concert.
Rebecca Freed writes:
Last night's Macworld Blast party was a concert at the Warfield Theater by Devo, which was sponsored by Microsoft's MacBU in celebration of shipping its Office 2008 suite. (A post on the MacBU's
blog post
is titled "Ship It, Ship It Good" and I imagine that joke was heard in Microsoft hallways quite a few times.)
Devo, uh, whipped through all of its best-known songs, including "Whip It," "Satisfaction," and "Jocko Homo" (the "Are we not men?" song) as well as some less-well-known songs, including my sentimental favorites, "Girl U Want" and "Gates of Steel."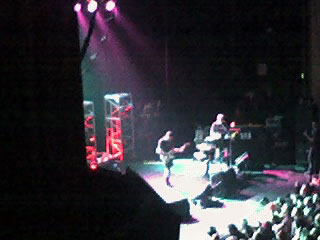 Watching the art-damaged video montage and listening to the crunchy guitar chords brought home to me why they were so scary-disturbing to me when I first saw them on Saturday Night Live as a high-school freshman. (I bet I was babysitting alone, too.)

Microsoft passed out goodie bags in honor of the occasion, including flowerpot hats (which enthusiastic fans were wearing down front). One chick even had a silver flowerpot—she must have been a real fan. The swag including a deck of Devo-related art and photos from the band's archives. Look for unopened packs on eBay soon.