Publishers of technology books, eBooks, and videos for creative people
Home > Blogs > Mind the brand at SXSW
Mind the brand at SXSW
Tony Hsieh, CEO of Zappos, gave his keynote at SXSW on Saturday. After describing his company culture to the post-lunch crowd (Zappos—now ranked high on Fortune Magazine's top 100 places to work in 2009—is noted for its outstanding customer service), Hsieh outlined seven key ways a company can build a brand:
Decide. period. Determine if you're really dedicated to building a long-term sustainable brand.
Figure out your values and culture. What are your personal core values, and do they match your company's? The most important thing is the alignment of those values. Live your brand.
Commit to transparency. Let your employees and customers know more about you. (Zappos encourages employee tweeting to be personal, an employee newsletter is published weekly, it offers an extranet for vendors, and so on.)
Vision. Whatever you're thinking, think bigger. Chase the vision, not the money.
Build relationships. Be interested. Don't just "network" (Hsieh likens networking to trading business cards in a stuffy and uninspired way).
Build your team. "If you want to go quickly, go alone. If you want to go far, go together." —Al Gore quoting African proverb
Think long term. Obtain repeat customers, achieve good customer services, don't follow a get-rich-quick formula. Overnight successes are years in the making.

That last statement is one I've seen scrawled on our publisher's whiteboard in her very unstuffy and approachable office at Peachpit/New Riders, and I'm reminded time and again (and at SXSW in particular) just how important it is that your brand reflect not only your company's values but also those of the people who make up the company. It makes me proud to see so many of our authors at this show who make up New Riders' brand. Looking forward to bumping into many more this week.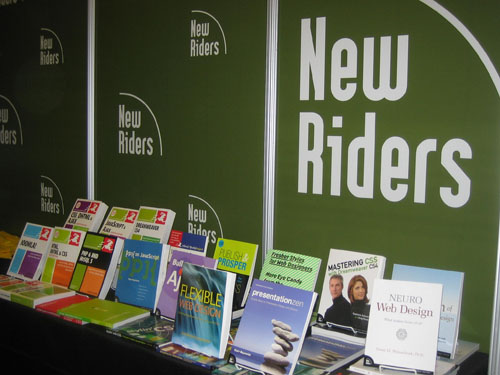 Other Things You Might Like

Learn Adobe Dreamweaver CC for Web Authoring: Adobe Certified Associate Exam Preparation

Learn Adobe Illustrator CC for Graphic Design and Illustration: Adobe Certified Associate Exam Preparation