For the next couple of months we'll be blogging from London. We've got a MacBook Pro, a MacBook Air, an iMac, two iPads, two iPhones, a UK Orange mobile phone, and the flat we're renting has a decent Wi-Fi connection. If we can keep all the batteries charged up, we should be in good shape.
Robin is teaching a module of the Shakespeare Studies program during the Winter semester at Brunel University in Uxbridge (West London) while I'm sketching, learning more software stuff, and working on various freelance projects that involve design, illustration, and web site design/production.

Before leaving home I installed Adobe CS5 on my MacBook Pro and de-authorized the copy of CS5 on my home computer. I opened the newly installed copy of Photoshop on the MacBook Pro to make sure everything was working, then packed it for the trip.

Upon unpacking at our flat in Uxbridge, I needed to create a web site banner so I tried to open Photoshop, resulting in a message that something like "Dude, you've already authorized two computers for this expensive software. Deauthorize another computer with CS5 installed, or just go ahead and buy another copy of CS5."

Robin's iMac in our flat has CS5 installed, but that's it. Don't have a clue what they're talking about. Instead of trying to figure it out, I remember that I bought an app from Apple's App Store called Pixelmator for $29.99.

I've owned Pixelmator for months, and read good reviews about it, but never had time to play with it. It turns out that it's very similar to Photoshop, with many of the same tools and menus, and even a lot of the same keyboard shortcuts. It does layers, text, blend modes, and much more. It doesn't have vector drawing tools (like the Pen tool in Photoshop), and it doesn't provide a CMYK color mode for print projects. But for what I need at the moment, more than good enough. Considering the cost, absolutely perfect.

Although it doesn't come close to doing everything Photoshop can do, Pixelmator can do most of the things I need most of the time.

If I really do need to use Photoshop, I can make an appointment to use Robin's iMac, on the other side of the room. Between Pixelmator, Preview, and iPhoto, I won't have to commute to Robin's side of the room very often.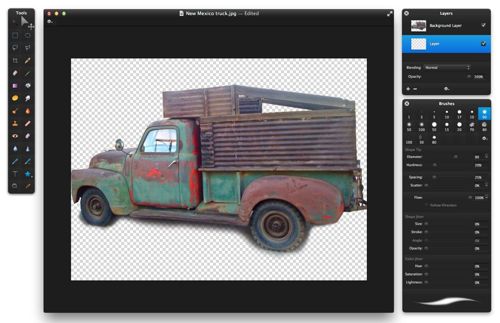 The Pixelmator interface is beautifully designed. You can work in full screen mode, use multiple layers, multiple undos, filters, curves, levels, export for web, etc. In the example above I deleted the New Mexico truck's background in preparation for compositing the truck into a London scene, next to the tiny little toy-looking cars and trucks that are ubiquitous here.